Introducing the IRIS.TV Contextual Video Marketplace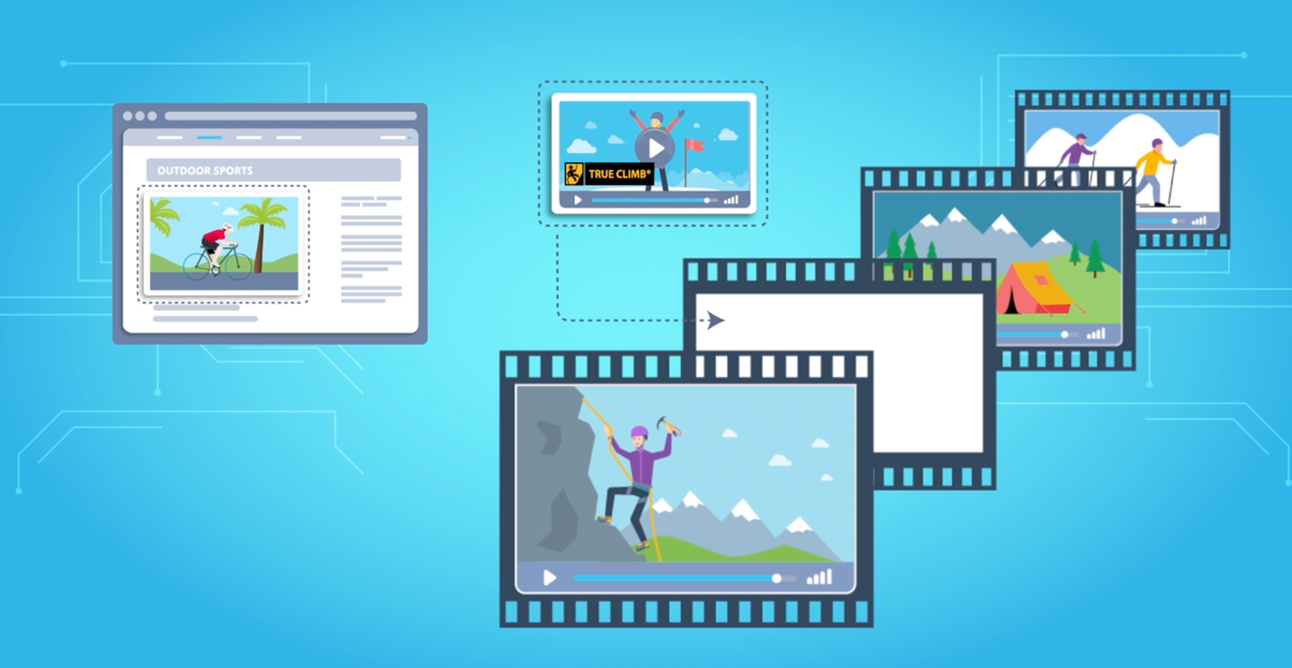 Advertisers can now guarantee the brand safety and suitability of their video advertising at scale across web, mobile, and CTV
While the rise of programmatic advertising has enabled brands to reach consumers on hundreds of millions of destinations across the open web, aligning that advertising with brand-safe and brand-suitable content has always been a pain point for marketers. The impending retirement of third-party cookies and increased uncertainty from privacy regulations are presenting additional challenges for both media companies and marketers.
Contextual ad targeting, aligning advertising with relevant content, is an established solution that has helped advertisers in search and display improve campaign ROI, media quality, and overall performance for decades. But for video, the fastest and most valuable form of media today, contextual ad targeting has not been possible. Until now.
With the IRIS.TV Contextual Video Marketplace, we have simplified thousands of integration points into a single ecosystem. Publishers' video content can now be analyzed and categorized into industry-accepted brand-safety and brand-suitable segments that can then be purchased by any advertiser or DSP through private marketplace deals.
The IRIS.TV Contextual Video Marketplace brings together:
Publishers
Contextual data partners
Ad Servers
SSPs
DSPs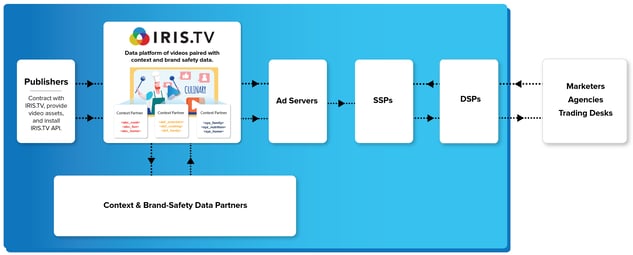 Why IRIS.TV?
Over the past seven years, we've built a data pipeline to simplify the complexity of the video ecosystem across CTV, web and mobile video. Initially designed for the onboarding of publisher video metadata to support our recommendation engine, our technology is able to unify thousands of integration points across a publisher's content management system (CMS), video player and ad server. IRIS.TV's ability to ingest video data from any content feed, standardize that data into a common data model and activate that data through the programmatic ecosystem is what finally makes contextual video targeting at large scale possible.
Brand-safe and brand-suitable video inventory can now be made available at the scale top marketers require, in contrast to the ongoing lack of brand safety on platforms like YouTube and Facebook.
The Contextual Video Marketplace has five core participants:
Publishers (Ingest)
Publishers on-board their video content into the Contextual Video Marketplace securely into their own dedicated account via a content feed from their CMS.
Publishers' video content will then be analyzed by a variety of contextual data partners enabling their video library to be segmented into industry-accepted contextual categories.
This enables publishers to execute direct or PMP deals based on specific content types enabling higher CPMs, fill rates and overall revenue increases.
Watch our Demo and Download our Fact Sheet to Learn More
Contextual Data Partners (Segment)
Contextual data partners can integrate their context and brand-safety video offerings into the marketplace enabling them to reach and segment video from participating publishers.
After segmenting the publisher's video content, data partners can now represent their data to buyers looking to execute deals in a variety of ways such as verifying for brand-safety or targeting specific categories.
Contextual data partners can have PMPs created by participating SSPs utilizing their data and enabling DSPs to execute via multi-publisher Deal IDs.
Ad Servers (Activate)
Ad servers can integrate with the contextual video marketplace, ensuring that their ad calls are compliant with any contextual segments live across their participating publishers.
Activating the contextual data will enable direct deals to be managed seamlessly or allow SSPs to accept and target the respective segments for buyers.
Supply-side Platforms - SSPs (Curate)
SSPs can integrate key-value pair targeting that is compatible with any participating contextual data partner enabling PMPs to be created utilizing their segments.
SSPs can curate multi-publisher Deal IDs and offer to buyers safe and contextually aligned content for their video advertising to run against, driving up floor prices and overall revenue.
Demand-side Platforms - DSPs (Transact)
DSPs offer their agency or brand customers the ability to reach contextually aligned and brand-safe video inventory at scale across any screen.

DSPs activate context and brand-safety PMPs via any SSP utilizing any contextual data partner's segments.
Trusted by