Top 5 Reasons Your Video UX is Killing User Engagement
Increasing video views, user engagement, and overall video ROI is top of mind for publishers. However, some are missing key opportunities to improve the video experience which can impact user retention and growth. IRIS.TV works with hundreds of publishers ranging from large global broadcasters to smaller, local newsrooms, and everything in between. Our technology captures video data across all clients in real-time and is synched to our video intelligence dashboard IRIS Vision™. That data is then carefully dissected by expert programming strategists who work closely with their clients to determine which digital assets are performing well, which aren't, and why. Using IRIS.TV video intelligence and the knowledge of our experts, we've aggregated the top 5 "killers" of user engagement below so you can capture loyal audiences.
Poor Categorization/No Categories- Categories are a crucial element of overall metadata health and effectiveness, directly influencing video performance. Categorizing digital assets appropriately are key to the discovery of relevant content and user engagement. Users are more likely to bounce off an uncategorized or poorly categorized asset. IRIS Vision data shows a 20% higher bounce rate on uncategorized or poorly categorized assets than on a well-categorized video. Refresh your memory on categorization and other metadata best practices here.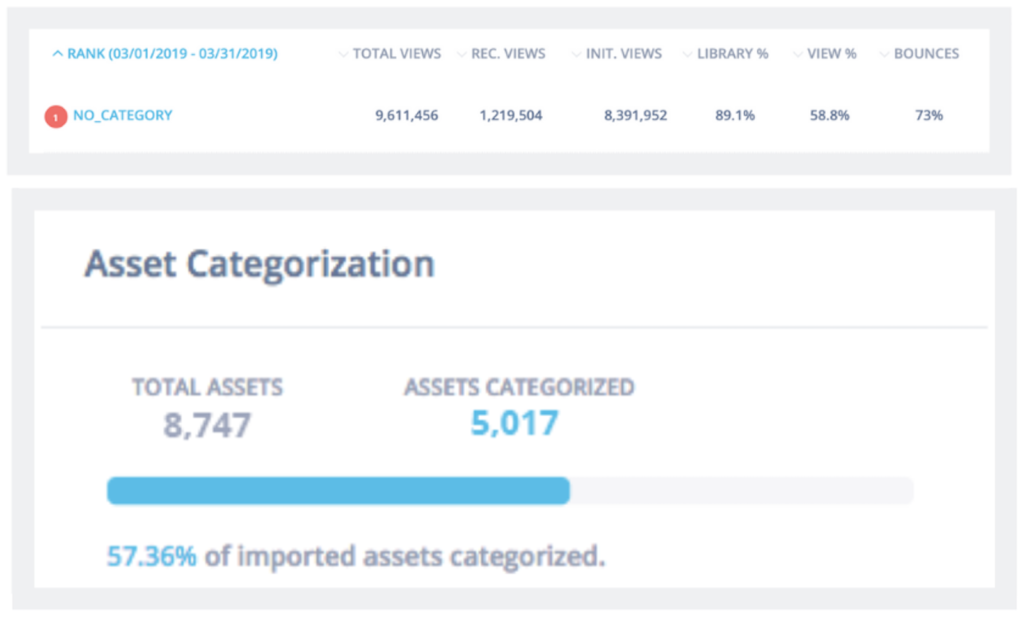 2. Asset Length - The relationship between asset length and bounce rate has been debated but a few general guidelines hold true. As an expert in your industry, you understand your data and audience best. Of course, some publishers who specialize in long-form, episodic content have an engaged audience, and in some cases, it makes sense to develop longer video assets. However, a general rule of thumb is to keep videos under 90 seconds, as they perform best.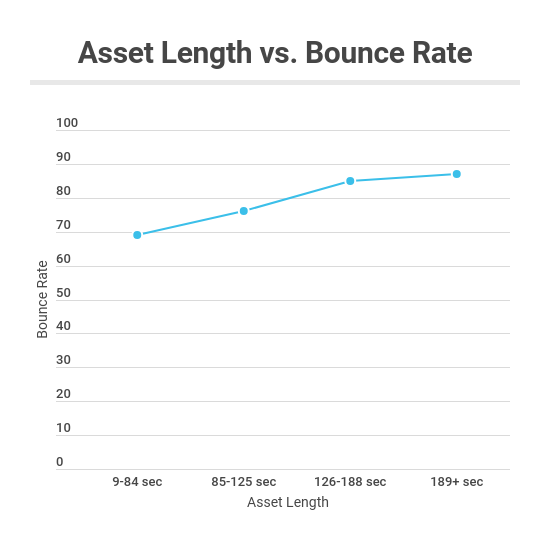 A popular daytime TV talk show saw that publishing ten, short, episode highlight clips were more engaging than one 30-minute long video of the show. Also, keep in mind that different platforms have unique requirements which may not always work for your owned-and-operated sites. Some broadcasters create two to three minute long videos to meet YouTube advertising standards and will often utilize that same asset on their owned-and-operated sites rather than create a new, shorter asset. Use your data to better understand your audience, the nuances of each platform, and inform better editorial and publishing decisions.
3. End Screen - If your videos have end screens, it may be time to reconsider their application. Initially, end screens were inserted at the end of videos with thumbnail images as a call-to-action or were common before continuous play was ubiquitous. If a viewer watches multiple videos in a playlist with the same end screen replaying over and over again, it begins to get repetitive and frustrating - much like watching the same TV commercial on repeat. VIewers want more of the video content they love, not the same outro slides. Keeping viewers engaged is no easy task, so having them reach an end screen, select another video (or wait for a countdown), then wait for a pre-roll ad causes bounce rate to increase. IRIS Vision data shows videos with 5-10 second "outros" at the end of a video see higher bounce rates.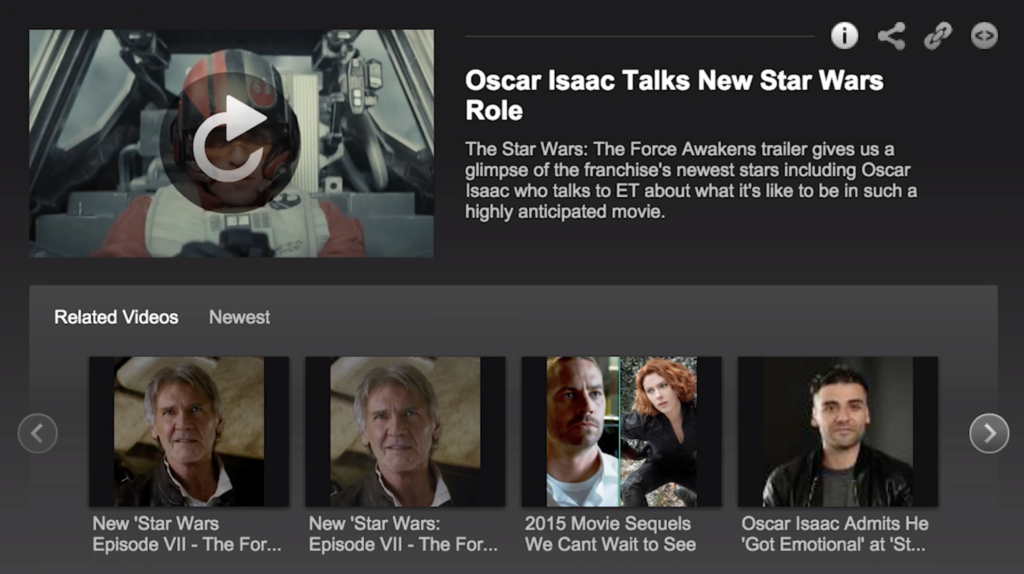 4. No Interactive Features - Examples of interactive features include "Up Next" "Skip Forward/Back" "Thumbs Up/Down" buttons and carousel thumbnails within the video experience. A simple implementation of one or more of these features can have a powerful impact on video lift and retention. IRIS.TV client Real Estate Australia (REA Group) incorporated video thumbnail carousels underneath their video player, which were personalized to the user.
The results were significant:
"Prior to implementing the carousel thumbnails, REA already enjoyed a healthy 60% video lift with IRIS.TV standard integration. After installing the carousel, video lift increased by 47% and the retention rate increased by 46%."

~ Ana Rowe, Senior Product Manager, Real Estate Australia
[video width="1280" height="664" mp4="https://www.iris.tv/wp-content/uploads/2018/04/REA.mp4"][/video]
IRIS.TV Senior Programming Strategist Katherine Miller works closely with her clients on including interactive features to enhance user experience. One major national news client was seeing 1.54 views/user on mobile web with a native, locked off player that had no interactive features. When the publisher implemented an in-line player with interactivity, they saw an increase of 2.2 views/user on mobile web, a 37% increase with a simple interactive upgrade.
Katherine says: "In order of priority and value, I encourage my clients to include Up Next, Skip Forward/Back, and Thumbs Up/Down"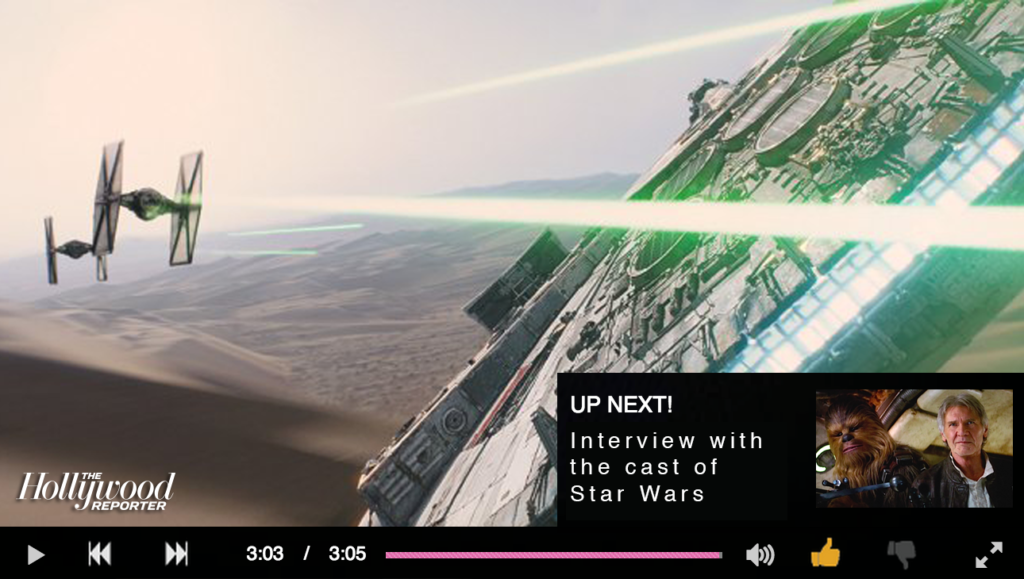 5. No Continuous Play or Floating Player - As Gen Z and Millennials continue to be distracted while multitasking and often on multiple devices at once, having a floating video player or continuous play feature is key to fitting into these consumption habits in a frictionless way. As users watch a video in an article page, they are likely to scroll down and read along while the video plays, and don't want the viewing experience to be interrupted or have them hop off the page. If it naturally follows the user where they are, they are likely to watch the video through to completion and even stick around for a longer period of time.
[video width="2880" height="1800" mp4="https://www.iris.tv/wp-content/uploads/2019/04/Floating-Player_ET-Online.mp4"][/video]
Creating high quality content is an art, but distribution is very much a science. You are not only competing with other publishers for your viewer's attention but every form of digital entertainment. If you are mindful of your user experience, the return will compound in engagement and loyalty.
If you're seeking more guidance on how to improve your overall video experience and start hitting your video business KPI's, contact your Programming Strategist. If you are not enabled IRIS.TV, contact us to learn more.
---