IRIS.TV Strengthens Leadership Team with Appointment of Chief Marketing Officer and Hires Vice President of Finance and Operations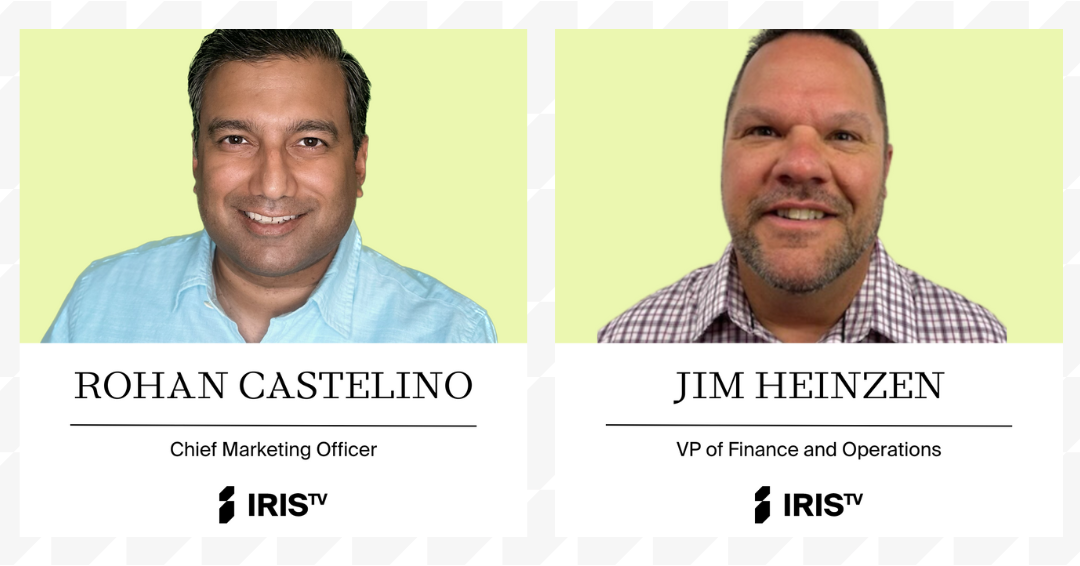 Rohan Castelino Takes Helm as CMO and Jim Heinzen Assumes Role as VP of Finance and Operations at IRIS.TV, Enriching Marketing Excellence and Financial Efficiency
NEW YORK, July 13, 2023 /PRNewswire/ -- IRIS.TV, the leading content data platform, announced today the promotion of Rohan Castelino to Chief Marketing Officer and appointment of Jim Heinzen as the Vice President of Finance and Operations. This strategic addition to the executive team reinforces IRIS.TV's commitment to driving marketing excellence and ensuring efficient financial operations. Both Rohan and Jim will report directly to Field Garthwaite, CEO and Co-Founder of IRIS.TV.
"During his tenure at IRIS.TV, Rohan has raised awareness of the IRIS_ID, an award-winning technology and also spearheaded the creation and execution of numerous highly successful marketing campaigns. Through his contributions, our client and partner network has expanded to thousands of publishers and dozens of partners further emphasizing IRIS.TV's positioning as the undeniable frontrunner in video-level data," said Garthwaite. "Rohan's contributions have set the stage for continued excellence and innovation within the company and our industry overall."
In his role as CMO, Rohan will lead IRIS.TV's global marketing endeavors. His responsibilities include formulating and implementing the company's marketing strategy, fostering customer acquisition and revenue growth, and strengthening the brand's reputation.
Rohan joined IRIS.TV in 2014 as Director of Business Development and Marketing, driving brand development, product marketing, revenue generation, and partnerships. His contributions led to accelerated market adoption, increased sales, and global brand recognition. Prior to joining IRIS.TV, he worked in Beijing in the entertainment and hospitality industries, where he produced and financed international film co-productions. Rohan also helped scale the franchise development of Super 8 by Wyndham in Greater China. In the US, Rohan has worked at prominent media companies such as Gannett, Sony Pictures Entertainment, Paramount Pictures, and Illumination Entertainment.
Joining IRIS.TV as VP of Finance and Operations, Jim Heinzen will provide strategic counsel to the Finance department while actively collaborating cross-functionally across all departments. With his extensive expertise in data, SaaS, and media, Jim will work closely with team members from sales, marketing, operations, product, and engineering to develop, launch and scale new lines of business leveraging video-level data.
"With a wealth of experience scaling and successfully elevating early-stage businesses to maturity, we welcome seasoned finance veteran Jim as VP of Finance and Operations at IRIS.TV," added Garthwaite. "As we continue to navigate the evolving landscape and drive success in this dynamic streaming TV ecosystem, we look forward to Jim's guidance and financial operations experience to lead us into the next phase of scaling IRIS_ID and developing the technology necessary to deliver exceptional viewing experiences."
With more than 25 years of experience, Jim served as Vice President of Finance at Onclusive Inc., overseeing financial forecasting, accounting functions, cash management, HR, payroll, risk management, treasury services, and tax compliance. He also served as Senior Director of Finance at Vivino Inc., leading global ERP system implementation, annual audits, and managing human resources, payroll, risk management, and banking. In his role as Director of Finance at The Nielsen Company, Jim managed accounting operations, finance, revenue recognition, and played a pivotal role in the company's acquisition due diligence. Jim has also held key positions such as Senior Director of Finance at SimpleGeo, Inc., Vice President of Finance at Digg Inc., and Corporate Controller at American Lithographers, among others.
About IRIS.TV
IRIS.TV is the only data platform built for video and CTV. We structure, connect, and activate the world's video-level data to create better viewing experiences and advertising outcomes. Our content identifier, the IRIS_ID, enables our partners to build scalable advertising solutions for contextual and brand-suitability planning, targeting, and measurement. Learn more about the IRIS_ID and the IRIS-enabled™ ecosystem of premium publishers, data partners, and ad platforms at www.iris.tv.