Live Event: Contextual Relevance for Digital Publishers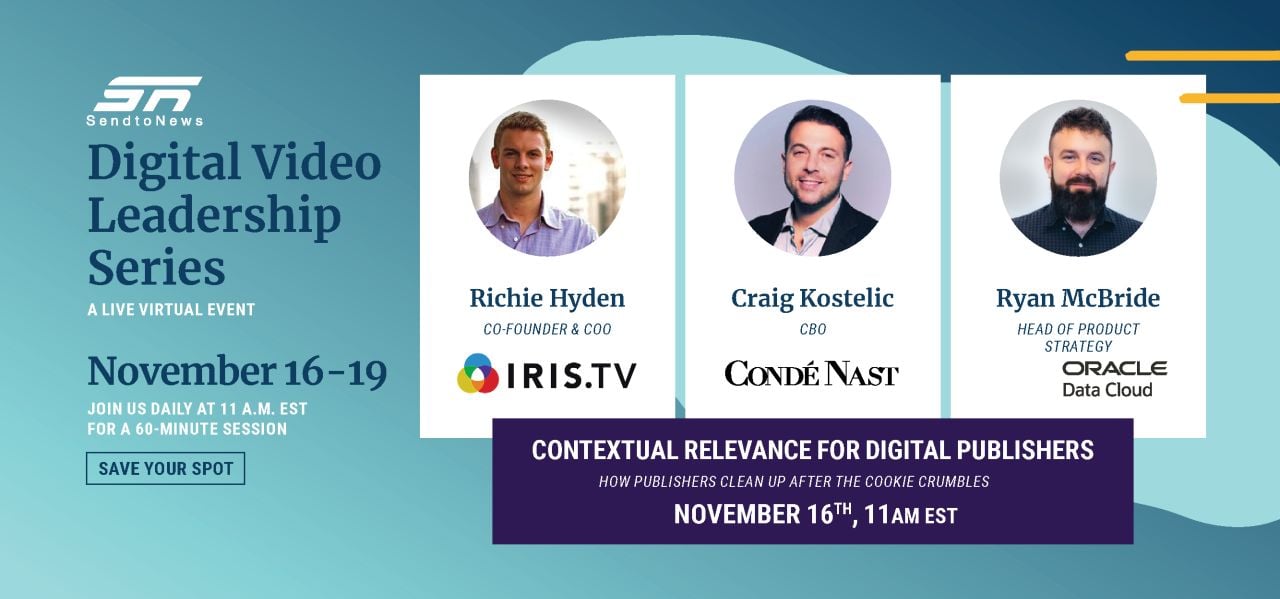 2020 saw an all time high of online video consumption. As a publisher, how do you leverage this growth and make it part of your digital video strategy for 2021? SendtoNews is bringing together industry leaders from the world of digital video ad buying, content and publishing to help you maximize your user experience while increasing your revenue over the next 12 months.
Our COO & Co-Founder Richie Hyden will appear on the panel Contextual Relevance for Digital Publishers along with Condé Nast CBO Craig Kostelic and Oracle Data Cloud Head of Product Strategy, Ryan McBride how publishers clean up after the cookie crumbles.
Learn more about the event here and register for the panels below.
November 16: CONTEXTUAL RELEVANCE FOR DIGITAL PUBLISHERS
11AM EST, 60 MINS
How Publishers Clean up After the Cookie Crumbles
Richie Hyden, IRIS.TV
Craig Kostelic, Condé Nast
Ryan McBride, Oracle
Host: Grandin Harrison, VP Revenue Operations SendtoNews
November 17: PUBLISHERS ONLY
11AM EST, 60 MINS
How leading digital publishers are leveraging video and how it can help you thrive in 2021
Colin McMahon, Chief Content Officer, Tribune

Jim Prather, Executive Director Digital Programming, Las Vegas Review Journal

Host: Philippe Guay, CRO SendtoNews
November 18: QUALITY COUNTS
11AM EST, 60 MINS
Why focusing on Quality Digital Video Content will help you not only increase users metrics but maximize revenue
Blake Stuchin, SVP Business Development - Digital, NFL

Matt Kaplan, VP Brand Partnerships, Cheddar
Craig Sloan, EVP, Home Team Sports
Host: Dan Rudley, VP Advertising Sales SendtoNews
November 19: LOOKING INTO THE CRYSTAL BALL
11AM EST, 60 MINS
A digital video industry insiders perspective on what to expect and how to shape your strategy for 2021
Kelly McMahon SVP of Global Operations at SpotX

Max Willens, Senior Editor, Digiday
Peter Scott, VP Emerging Media, Warner
Host:

Matthew Watson, CEO, SendtoNews