ONA18: News Publishers Take a Deep Dive into Video AI with IRIS.TV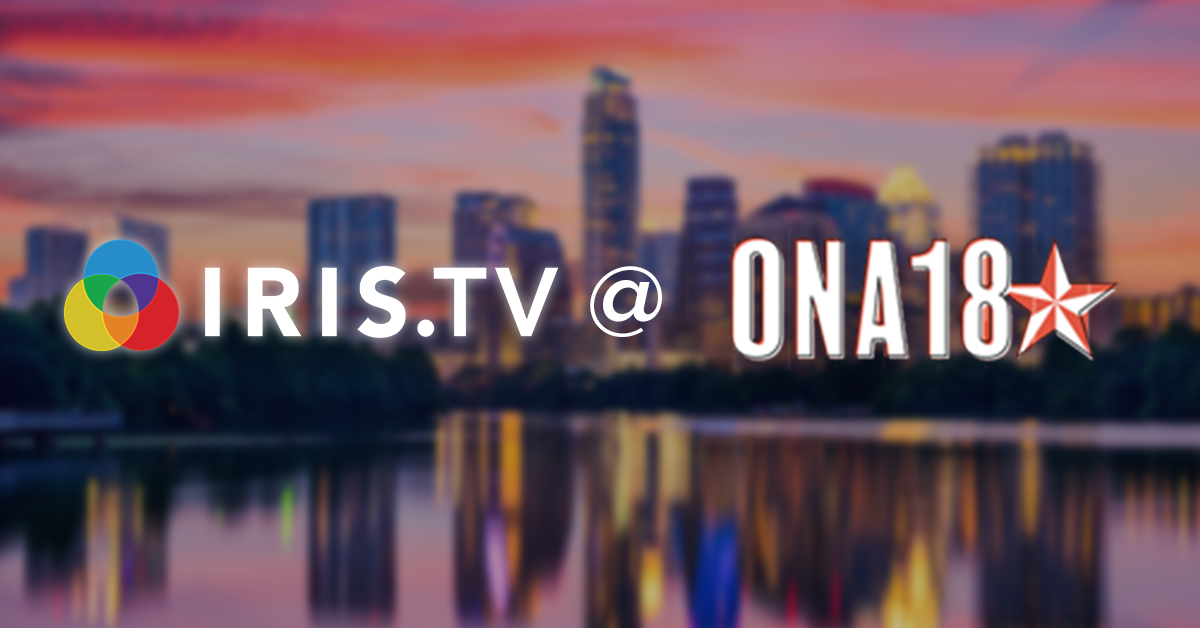 IRIS.TV will be in Austin, TX from September 13-15 for ONA18. We look forward to showing you how we are helping the world's leading news publishers harness the power of A.I. and machine learning to engage audiences, increase video views, and grow revenue on their owned distribution channels.
Schedule a time to meet or visit us at our booth. Learn why Newscorp, USA Today Networks, McClatchy, AccuWeather and many more trust IRIS.TV as their personalization and programming partner.
In addition, we'll be appearing on the Midway panel: Take a Deep Dive into Video Programming: Building Credibility, Understanding AI, + Exploring New Tools.
This session is designed for:
Anyone currently working on or interested in video who is looking to explore issues of editorial credibility and utilizing new technologies.
Newsrooms looking to have a better understanding of taxonomy as it relates to recommendation algorithms and analytical insights.
Newsrooms of all sizes concerned they can't improve their current video strategy because of their budget and programming limitations.
When: September 13 at 11AM
Where: Room 301 and 302
Moderator: Imaeyen Ibanga | Senior Producer | AJ+ | @iiwrites
Imaeyen Ibanga is a senior producer and presenter with AJ+. She manages a team that produces long-form videos focused on contextualizing domestic and international news. In February 2018, her team's work expanded beyond its home on YouTube. They launched the show "Because Facts" on Facebook Watch to cover "the details that matter." Imaeyen is also a founding member of Advocates for Inclusion and is on the Online News Association's board of directors and loves all things cats.
Speakers:
Rohan Castelino | Vice President, Marketing | IRIS.TV | @rohanccc
Rohan Castelino is Vice President of Marketing at IRIS.TV. Mr. Castelino has over 14 years of international experience working in the intersection of media and technology. He spent six years in Beijing and Shanghai where he helped develop and finance international film and television co-productions with China, Hollywood, and Europe. Prior to joining IRIS.TV, Rohan worked with major media companies such as Sony Pictures Entertainment, Paramount Pictures, and Illumination Entertainment.
Tessa Sproule | Co-Founder and CEO | Vubble | @tessasproule
Tessa Sproule is a digital innovator, visionary leader and change agent with an intense clarity of vision for the future and proven intuition for identifying opportunities in the unrelenting advance of disruptive technologies in the media space. For nearly two decades, Tessa worked within the CBC, Canada's public broadcaster, leading legacy media's response through its dramatically shifting business. Now she takes a place at the front of the shift as the co-founder and CEO of Vubble, a media technology company that merges human curation with artificial intelligence in the assessment, marketing and distribution of online video.
Will Jamieson | CEO | Stream Live | @willjamieson93
Will Jamieson is the CEO of Stream Live Inc, a live video platform used by publishers around the world, in addition to professional sports teams and brands such as NASA.
Michael Shabun | Marketing Director - North America | Insta360