Verizon Media - How to Increase OTT Monetization with Increased Engagement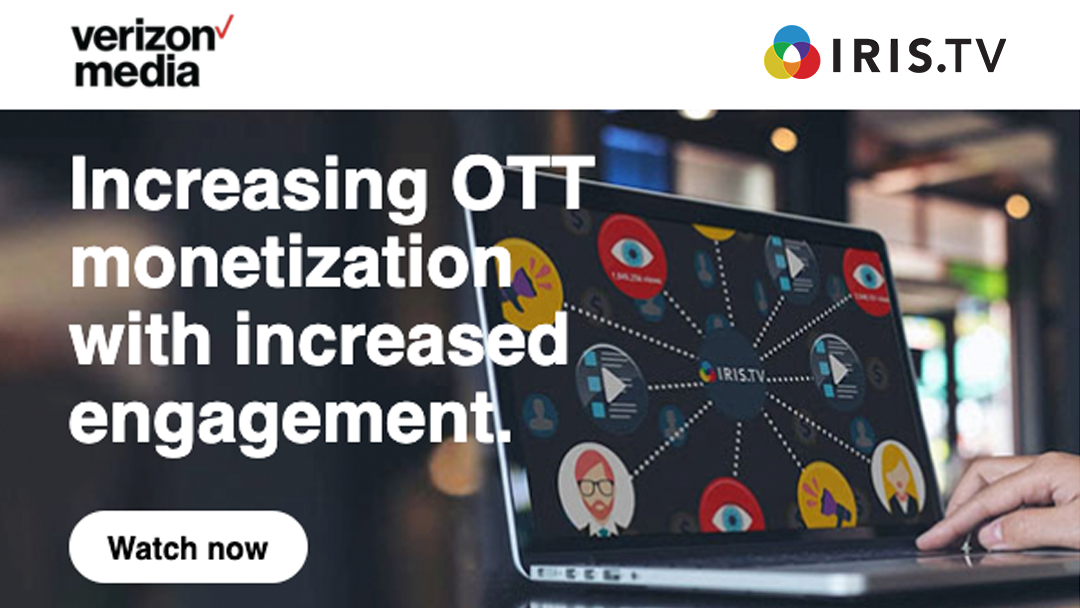 IRIS.TV has partnered with Verizon Media, integrating our video personalization suite into their Media Platform. Verizon Media customers have access to the world leader in video recommendations and programming automation tools.
In this video, Verizon Media's Principal Product Manager, John Reigart talks with IRIS.TV's VP of Marketing, Rohan Castelino about how we apply machine learning to automatically serve up more relevant content and playlists based on audience preferences, user interaction and behavioral segmentation. After integrating IRIS.TV, some OTT services have seen as much as a 62% increase in viewing sessions and a 10% decrease in bounce rates.
To learn more about Verizon Media's solutions for premium OTT register for the webinar:
Tuesday, December 8, 2020
12 PM EST
OTT: Integration. Optimization. Monetization.
Get to market quickly with a premium OTT solution.
Verizon Media Platform's integration partners IRIS.TV, THEO Technologies, 24i and Cleeng add advanced features to create a best-of-breed technology stack that delivers simplicity and ease to your video workflow.
These world-class partners have pre-integrated with Verizon Media's APIs, ensuring a seamless workflow and rich feature set that fast-tracks your time to market. These integrations also provide innovative viewing experiences your audiences' demand and keep you ahead of the competition. Join this webinar to learn how our integrations with these innovative platforms can help you:
Acquire more users and deepen viewer loyalty

Maximize user retention and minimize churn

Reduce costs and monetize on new OTT devices

Take advantage of every monetization model