Video Programming Playbook: Metadata Taxonomy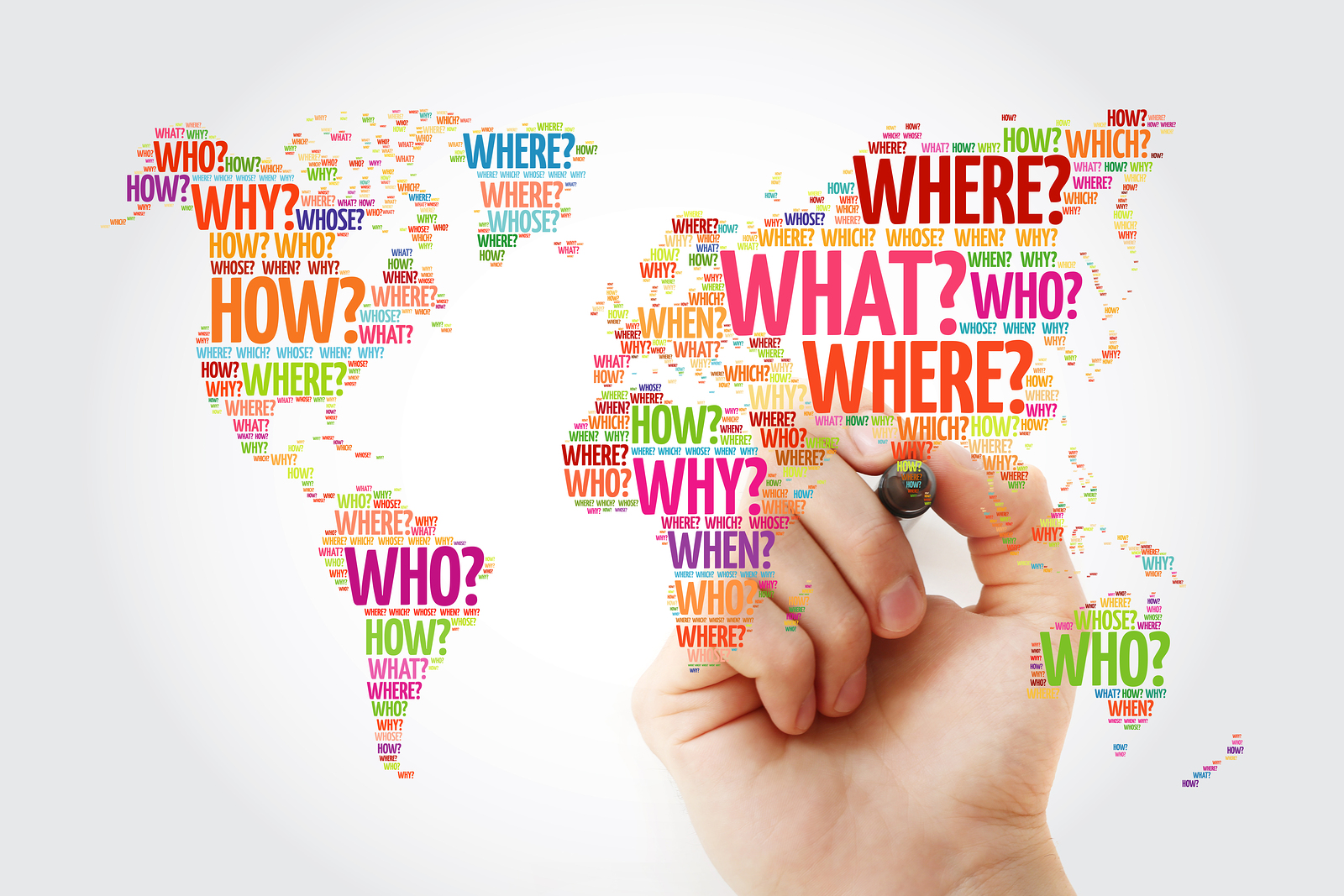 Users expect a personalized experience whenever they engage with digital content. While they may demand that publishers program video to them on a one-to-one level, automating video streaming at large scale while maintaining editorial standards and brand safety is no easy task. In a highly competitive attention economy, smart players are focusing on what they do best and automating the rest. But no matter what AI-based video programming platform you use, all algorithmic-based systems work best when video asset metadata is structured in a category taxonomy.
A well-constructed taxonomy not only supports discovery and recommendations but also enables you to have more precise video programming controls as well as gain actionable insight from analytics.
Editorial teams want the benefits of automation, while still having the ability to override recommendations according to business rules and editorial standards.
Content Acquisition wants to better understand the supply and demand of their assets.
Audience Development and Marketing teams want to know what categories are resonating with their new, returning, and loyal audiences.
Revenue teams want to be able to better package up inventory and optimize their branded campaigns.
Without a video taxonomy, you cannot do any of these things effectively.
So What is a Taxonomy?
Taxonomy, as it relates to video content, is a way of describing and classifying your digital assets.
A well-tailored taxonomy is the foundation of any successful publisher's video strategy. A taxonomy's configuration of categories and subcategories provides context for the discovery and recommendation algorithm which interprets a video's more granular associated metadata (keywords/tags, title, description, etc.) to facilitate video recommendations. If metadata is the lifeblood of content discovery, taxonomy is the circulatory system.
Over the past ten years, metadata has transitioned from being largely viewed as an outsourced and/or "intern task" into one of the most important components for intelligently managing online video.
See an example of a great taxonomy below (taken from our Publisher's guide):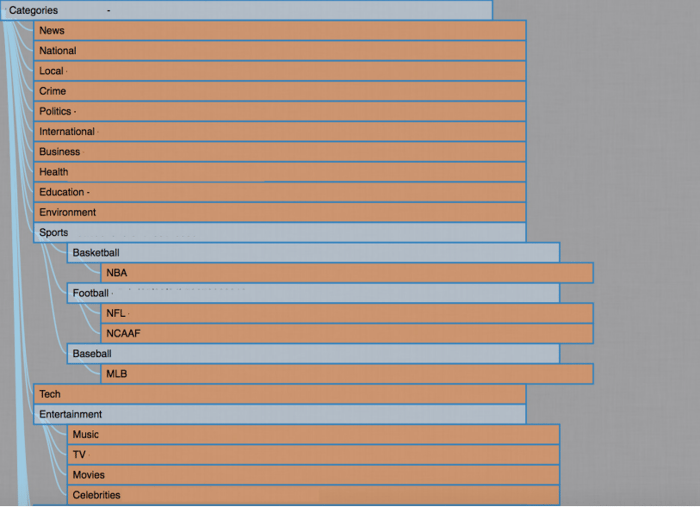 Before we get into tips and tricks for maximizing your video library, let's break down the difference between metadata and taxonomy to better understand how they work together.
Taxonomy and Metadata - What's the difference?
Metadata is detailed content information (title, category, tags, file size, video length, keywords, etc.) that communicates between the content and the means of discovery: search, recommendations, and personalization. The more encompassing and consistently structured the metadata, the more likely the asset will be discovered and viewed by the right user. Metadata makes content findable and understandable to a human or machine.
Taxonomy's purpose is classification. Consider the relationship between the two this way: taxonomy organizes information while metadata describes it.
Many publishers fall into one of three categories when it comes to metadata:
Very little or no metadata exists

for the vast majority of their digital assets,

Some metadata is available

but it hasn't been updated or improved in a while,

Tons of metadata exists

but may not be consistent and/or accurate
It can seem daunting for many teams to approach their digital library with this in mind but don't fear it, it's not as painful as you might think. Below are a few best practices to remember when you take a look at your metadata health. For more, download our updated taxonomy guide.
Your Metadata Health Check
The first step to good metadata is a health checkup. Get a "pulse" on the current state of your metadata using the checklist below.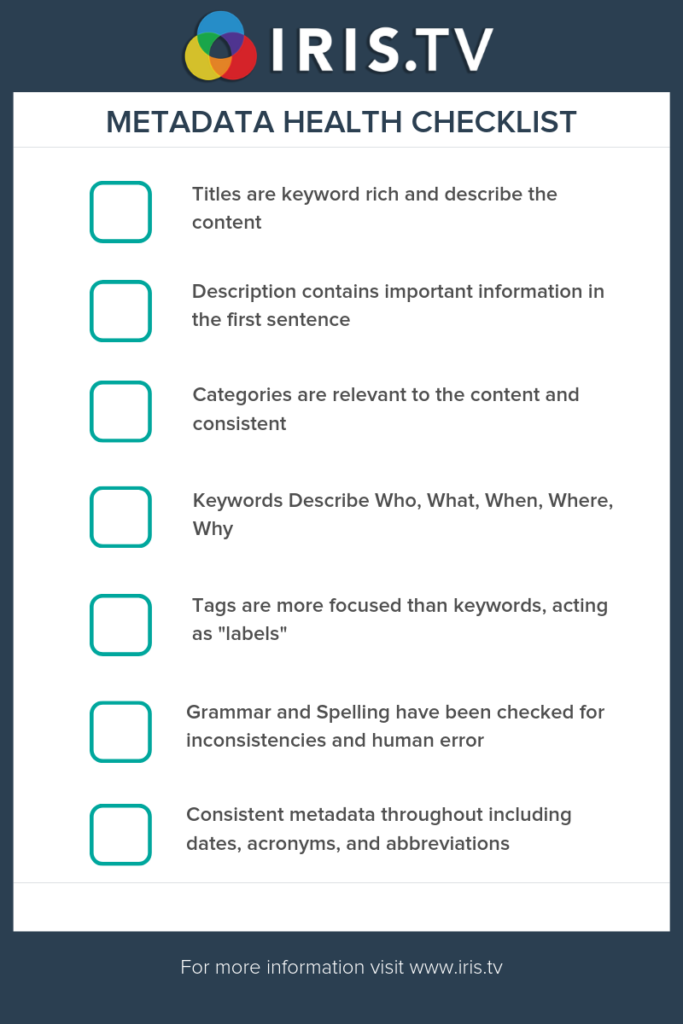 ⚠ If your digital assets are lacking any of the items listed above, or you are unsure of the quality of your metadata, contact us for a consultation as enrichment options are available.
Drive Results
Healthy metadata is critical to maximizing user engagement from video personalization as well as customizing programming so that publishers can adhere to editorial or business rules.
Looking back to your KPIs and business goals, assess how your enhanced metadata and taxonomy changes helped meet or exceed those goals. For instance, have you noticed an increase in video lift after you categorized 100% of your digital assets? After tagging your videos with consistent keywords, have you noticed an increase in recommended views? Has creating better titles improved user engagement and thereby an increase in returning and loyal users?
Consistent metadata taxonomy is key to a strong video strategy. A bit of time invested can yield optimal results in terms of video ROI, increased engagement with your content, and loyal user growth.
To learn more about applying these best practices, contact your IRIS.TV Programming Strategist today. If you are not an IRIS.TV client, please contact us to learn more.
---
Check out these links for more information: