GumGum, SpotX, and IRIS.TV Come Together to Support COVID-19 Vaccine Awareness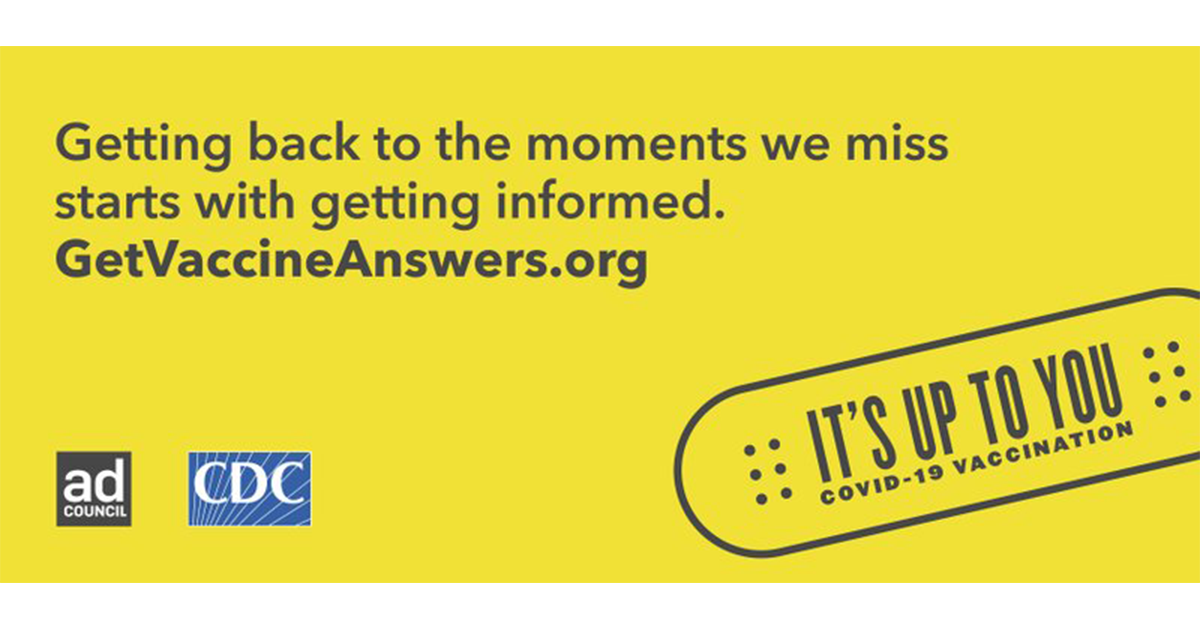 GumGum, SpotX, and IRIS.TV Come Together to Support the Ad Council and COVID Collaborative's Initiative to Boost COVID-19 Vaccine Education and Awareness Across the U.S.
GumGum, a global technology and media company specializing in contextual intelligence, today announced that they are working alongside IRIS.TV and SpotX (now part of Magnite) to help the Ad Council and COVID Collaborative promote Covid-19 vaccine education in relevant, suitable video environments across the web.
The Ad Council turned to this team of partners to help deliver a campaign that could make a difference. Knowing that 69% of consumers are more likely to look at an ad that's relevant to the context they are viewing, GumGum ensured that ads not only appeared next to "health" related video content but applied its sentiment analysis capabilities to ensure that ads were placed next to video content with a neutral and positive sentiment. By applying these additional layers of contextual insights, the Ad Council could be confident that their ads are reaching consumers in the right moments and alongside relevant content to drive engagement, and more importantly, action.
"We are grateful for partners like GumGum, IRIS.tv, and SpotX, who have come together to deliver a highly-targeted campaign, ultimately helping educate Americans about the COVID-19 vaccines and provide answers to their top questions. This is the first campaign where we will be using GumGum's sentiment analysis technology, which will help us identify the most effective place for these ads to run and make a significant impact for millions of Americans making a decision about vaccination." - Kathy Kayse, Chief Media Strategy & Partnerships Officer, the Ad Council.
Gumgum and SpotX have teamed up to donate the ad impressions for this campaign and IRIS.TV has waived all data usage fees in order to help get the messaging out. IRIS.TV's video data platform allows GumGum access to publishers' video content to scan the video itself with its proprietary Verity contextual technology and transact programmatically on the SpotX platform. GumGum is able to sample video imaging at 1 frame per second, transcribe audio content and assess the sentiment of the content with its Natural Language Processing (NLP) technology, and analyze text on-screen using optical character recognition, all to determine the true content categorization and ensure brand suitability across videos themselves. Publishers such as SendtoNews, MailOnline and Frankly have opted into these contextual deals via SpotX.
"GumGum is a long-standing partner of the AdCouncil. We love being able to lend our contextual expertise and capabilities to help them ensure their ads are showing up in the most optimal environments. With the support of IRIS.TV and SpotX we were able to put together a great campaign for the AdCouncil," said Ben Plomion, Chief Growth Officer, GumGum.
"As connected TV viewership continues to grow, it is critical that public safety ad campaigns like this one reach those audiences that may have cut the cord," said Kristen Williams, SVP of Strategic Partnerships at SpotX. "We are happy to help drive awareness and education about the importance of vaccinations in any way we can."
"We are thrilled to be a part of a campaign of such importance," said Richie Hyden, COO of IRIS.TV. "We have been focused on unlocking the value of video data by connecting it to cutting edge contextual intelligence technology like GumGum's Verity and enabling partners like SpotX to provide advertisers with more precise targeting, which has repeatedly proven to improve campaign performance. Seeing this come to fruition in real time for something as important as the Ad Council's vaccination campaign has been extremely gratifying."
GumGum was founded in 2008 and is headquartered in Santa Monica, California. The company works with over 100 major brands and 1200 leading publishers globally. GumGum recently received a $75 million dollar investment by Goldman Sachs Growth to accelerate GumGum's contextual intelligence offering globally.
For more information on Verity or GumGum please reach out to PR@gumgum.com.
###
About GumGum
GumGum is a global technology and media company specializing in contextual intelligence. For over a decade, we have applied our proven machine learning expertise to extract value from digital content for the advertising and sports industries. Our proprietary contextual intelligence engine uses computer vision and natural language processing technologies to scan text, images and videos when evaluating digital content. Combining our contextual advertising intelligence with proprietary high-impact ad formats, GumGum's advertising solutions deliver industry leading efficiency, accuracy and performance.
About IRIS.TV
IRIS.TV's mission is to connect and unify video data to power better consumer experiences and business outcomes. IRIS.TV's video data platform is a neutral, privacy-first, cookieless solution that provides publishers, broadcasters and Connected TV apps with secure onboarding and activation of third-party data segments. Since 2013, IRIS.TV has enabled our partners to build scalable solutions on top of our platform including video-level contextual and brand-safe ad targeting, third-party verification, personalized video recommendations, and measurement & analytics solutions. For more information, visit http://www.iris.tv.
About SpotX
SpotX is the leading video advertising platform shaping digital video and the future of TV globally. The company's solutions enable media owners to monetize content across all screens and streams while providing advertisers with direct access to brand-safe, premium inventory. With best-in-class technology purpose-built for video, SpotX's trusted, privacy-compliant solutions are employed by some of the largest media owners in the world including A+E Networks, Crackle Plus, The CW Network, Dentsu CCI, Discovery, Fox Corporation, fuboTV, LG, Microsoft, Newsy, Pluto TV, Roku, Samsung, Sling TV, and Vudu. In the US, SpotX works with nearly all major OTT stakeholders and reaches 4 out of 5 viewers of ad-supported CTV, or 70 million households. SpotX is a subsidiary of Bertelsmann's RTL Group and is headquartered in Denver with 9 offices throughout the US, EMEA, and APAC regions. Learn more at http://www.spotx.tv.
About the Ad Council
The Ad Council has a long history of creating life-saving public service communications in times of national crisis, starting in the organization's earliest days during World War II to September 11th and natural disasters like Hurricane Katrina and Hurricane Sandy. Its deep relationships with media outlets, the creative community, issue experts and government leaders make the organization uniquely poised to quickly distribute life-saving information to millions of Americans.
The Ad Council is where creativity and causes converge. The non-profit organization brings together the most creative minds in advertising, media, technology and marketing to address many of the nation's most important causes. The Ad Council has created many of the most iconic campaigns in advertising history. Friends Don't Let Friends Drive Drunk. Smokey Bear. Love Has No Labels.
The Ad Council's innovative social good campaigns raise awareness, inspire action and save lives. To learn more, visit AdCouncil.org, follow the Ad Council's communities on Facebook and Twitter and view the creative on YouTube.