Use video-level data to find these 5 niche audiences this spring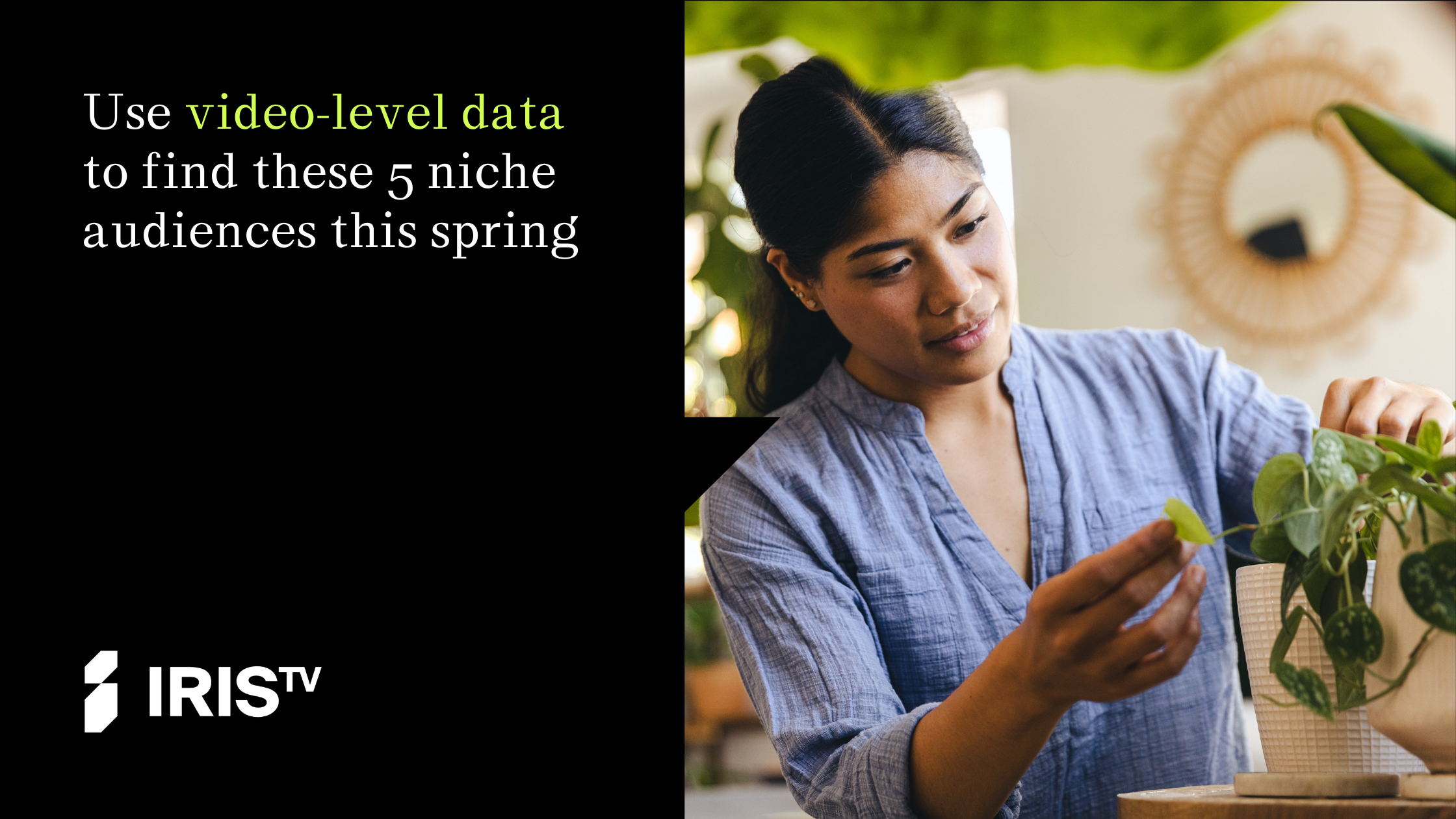 Spring is prime time for a wide array of marketers, who often target their advertising broadly on platforms with a wide reach.
But advertisers who want to reduce waste can use normalized video-level data to reach audiences most receptive to their messages
and products.
Armed with video-level data, marketers can dig into a vast amount of video inventory at a granular level and identify content that is likely to align with the audiences they're seeking. Sometimes all it takes is a little unconventional thinking to make sure your message meets the right audience.
To demonstrate, we've rounded up a list of upcoming seasonal occasions and paired them with the niche audiences marketers can find when they use video-level data to target the right content.
Spring cleaners
It's April, that time when we throw open the windows and the sun casts its glorious rays on everything that's wrong with our homes. The chipping paint, dust bunnies, crabgrass, and cluttered garages we ignored all winter must now be immediately addressed. With a little niche targeting, marketers can go beyond the overly broad "functioning adult homeowner" audience.
DIY consumers looking for a breakout project are a perfect target for big box and hardware retailers, crafts brands, and landscaping centers. Find them by targeting ads against video with contextual markers including home and garden, gardening, landscaping, outdoor decorating, interior design, and remodeling.
Everyday doers have been maintaining status quo cleanliness all winter and are aching for a weekend-long deep clean. Cleaning supply brands, grocery stores chains, and food brands can find these consumers by targeting videos within the shopping contextual category, like grocery shopping and household supplies, or the kind of content that resonates emotionally with this crowd, tagged active, capable, or reliable.
The WFH crowd laboring in home offices all winter may be dreaming of far-off lands. They may go, but that messy desk will still be there when they return. Marketers in spring cleaning categories might consider counterprogramming against video content tagged for travel, specifically larger niches like adventure travel, budget travel, air travel, and cruises.
Last-minute tax filers
The deadline for filing taxes is just weeks away—April 18—and procrastinators are scrambling to find an accounting service with availability. Tax preparation software and services can remind them that there's hope by targeting them against the video content that interests them.
SMB owners love being their own boss, but probably not their own accountants. Find them by targeting your ads against videos tagged business content, business news, and personal finance, particularly subcategories like personal taxes, and stocks and bonds.
New homeowners have some tricky calculations to do. Find them by targeting your ads against the kind of content they'll be watching to gather ideas to improve and personalize their new homes: home and gardening and its subcategories gardening, home appliances, and home improvement.
Earth Day observers
Brands who want to align themselves with environmental good this Earth Day (April 22) can do better than simply aiming broadly at the mass market. Instead, align with the type of content enjoyed by consumers who enjoy the good life outdoors.
Retirees move to warmer climates to enjoy more outdoor activities. To speak directly to them, target ads against videos about golf and gardening, and target folks likely to retire soon by targeting ads against financial planning content.
Outdoor enthusiasts have an appreciation for nature and often support brands doing their part to help the planet. Find them by drilling down in the sports contextual category to video content tagged extreme sports, fishing, hunting and shooting, skiing, walking, and camping.
Aspirational travelers want all those far-flung places on their bucket list to survive and thrive. Speak to them by targeting against video content tagged air travel, adventure travel, and beach travel.
Graduates and their parents
Congratulations! You made it. After a brief stay at home, college graduates and college-bound high school grads are probably eager to leave the nest. They—and their parents—are in the market for new furniture, moving services, and more.
Grads thinking about their next steps can be reached by targeting ads against videos about career advice, job planning, and job search content.
Grads who aren't thinking about their next steps (but probably should be) can be reminded when you target ads against videos tagged sports, animation TV, and video games.
Donut lovers
Who doesn't love a donut? Give audiences a reason to indulge by celebrating this suspiciously specific holiday honoring the everyman's pastry.
Foodies spend $24 on a bottle of olive oil, but even elevated palettes secretly want to indulge their most basic taste buds. Conquest the Williams-Sonoma crowd with ads targeted to video content tagged food and drink, including cooking, desserts and baking, and world cuisine.
Health buffs have to get tired of eating all those nuts and seeds. Try targeting ads against video content tagged, active, fitness and exercise, nutrition, healthy cooking, and wellness.
Everyone else. OK, we guess you could go broad here.


Interested in more ideas on how to use video-level data to find your most receptive audience? Download our Q2'22 Contextual Segments Report for more seasonal and evergreen targeting inspiration.