EX.CO Joins IRIS.TV's Contextual Video Marketplace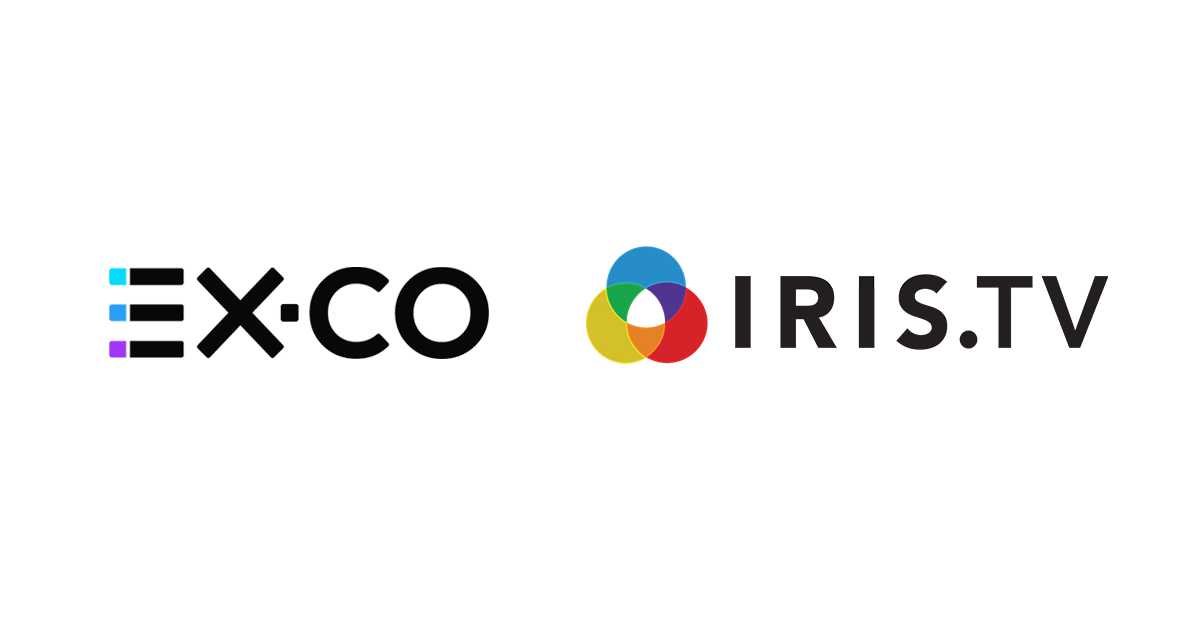 Publishers using EX.CO's video solution, Channels, now provide marketers with contextually segmented and guaranteed brand-suitable ad inventory
IRIS.TV, a video intelligence platform for broadcasters and publishers, today announced the introduction of EX.CO to the company's Contextual Video Marketplace. With this integration, the thousands of publishers using EX.CO's video inventory through their Channels product will have their videos contextually segmented by a growing list of leading data providers including Oracle Data Cloud, Comscore, and Spectrum Media Services, and made available to brands for brand-safe video advertising across any screen.
While brand-safety and brand-suitability have always been important considerations, now more than ever, marketers are looking to reach and engage consumers in ways that are both relevant and appropriate. This partnership expands the amount of video content that can be contextually segmented, leading to more targeted marketing opportunities for brands and increased demand for publishers' video content.
EX.CO's Channels video solution is a unique, content-driven way for publishers to monetize through in-stream video experiences. Videos are custom or dynamically-generated with options for publishers to stream relevant videos across a range of verticals including finance, health, entertainment, news and lifestyle.
"EX.CO offers premium video inventory at the scale and diversity that Fortune 500 brands demand," said Field Garthwaite, CEO & co-founder of IRIS.TV. "As the retirement of third-party cookies and privacy regulations challenge how marketers reach and engage consumers, brands are increasingly demanding context as a requirement for their video ad campaigns. Video advertising is brand building so it's about protecting your investment, winning hearts and minds, and of course seeing superior performance and ROI. Having EX.CO Channels join the marketplace is a win for audiences, publishers and advertisers."
"We're thrilled to be collaborating with IRIS.TV on building an eco-system that guarantees ad relevance and brand safety," said Johanna Bergqvist, Head of Business Development at EX.CO. "With this partnership, publishers using EX.CO Channels will benefit from having all of their video content contextualized through the IRIS.TV marketplace, making it easier for brand marketers to target relevant ad opportunities on publishers' sites, and thereby increase growth in revenue."
Launched at Cannes Lions in 2019, IRIS.TV's Contextual Video Marketplace brings together publishers, contextual data providers, ad servers, SSPs, and DSPs into a marketplace that enables publishers' video content to be analyzed and categorized into industry-accepted brand-safety and brand-suitable segments.
About EX.CO
EX.CO (formerly known as Playbuzz) is the leading technology used by brands and publishers worldwide to drive business results through impactful content. EX.CO Channels is a content-driven video solution for publishers that helps them increase revenue, and the EX.CO Platform is a technology that enables brands and publishers to create interactive content that increases engagement, dwell times and conversion rates. Founded in 2012 by Tom Pachys and Shaul Olmert, the company today has over 120 employees across its offices in New York, London, Tel Aviv and Lviv, and has raised $66M to date in strategic funding by investors including The Walt Disney Company, Saban Ventures, Viola Group, 83North and firstime. To learn more, visit us at EX.CO or follow us on LinkedIn.
About IRIS.TV
IRIS.TV's video intelligence and programming solutions are trusted by the world's largest broadcasters and publishers to increase engagement, activate data, and build audience insights across all video platforms. The video programming platform integrates with video players and uses machine learning to automate the streaming of personalized content based on audience preferences, user interaction, and behavioral segmentation. The company's contextual video marketplace activates industry-standard content segments on all videos to enable brands to engage users in relevant and brand-safe environments. Armed with video intelligence, media companies can maintain the highest editorial standards, provide the best user experience, while growing revenue. Follow us on twitter: @iris_tv or visit us at http://www.iris.tv.