How Publishers are Driving Revenue During COVID-19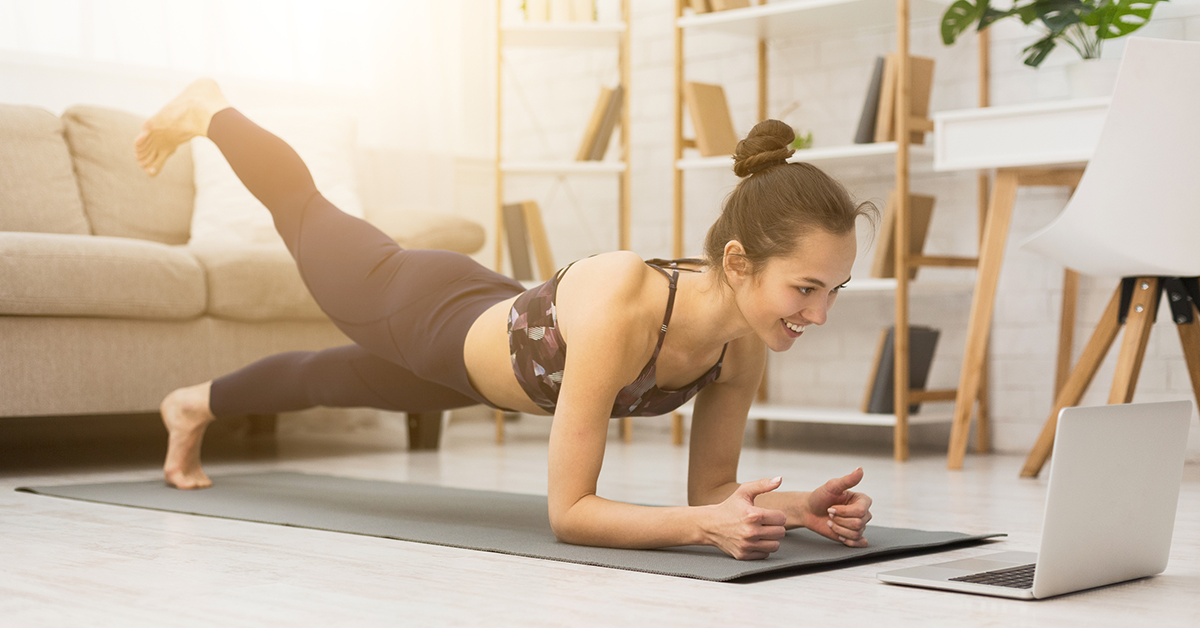 The impact that coronavirus and COVID-19 has had on media companies cannot be overstated. In the last couple months, News publishers in particular have experienced a unique challenge:
Increased site visits and video consumption
Pull back in advertising spend due to marketers' concerns over the brand-suitability of coronavirus related content
So how can publishers capitalize on the increase in video consumption and drive revenue? In this post, we'll review some of the data-driven strategies our clients have undertaken to not only weather the storm but seek a path to sustainable revenue growth now and post quarantine.
News: Maximizing Return from Peak Engagement
Loosen the Paywall: Leverage Changing Behavior to Create Loyalty
During the initial wave of disruption in March when communities experienced closings, travel restrictions, and stay-at-home orders, news publishers saw a spike in site visits and engagement from new users. While national news, especially coverage around the president's daily briefings drives clicks, local news has become a go-to for breaking news and coronavirus updates.
Some national news publishers with a network of local sites have observed an increase in engagement in returning and loyal users. The graph below shows the share in user sessions from returning and loyal users over the last two months.
Percentage of Users that Returning or Loyal
*A returning user has more than one video session in the last 30 days. A loyal user is one that in the trailing 16 days and at least eight separate days, has had a video session
To adjust to this change in user behavior, a news publisher decided to remove the paywall for coronavirus related topics but leave it in place for lifestyle and human interest content and videos. Some publishers have provided soft paywalls that require only an email to access content. In these cases, they are able to link the emails with the user's video category preferences to inform marketing strategies.
Category Break Down by New, Returning, and Loyal Users for a News Publisher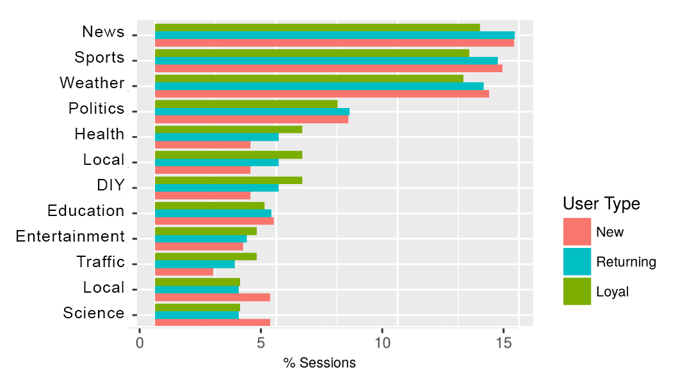 The above chart shows the % of video sessions of categories grouped by new, returning, and loyal users. In this case, Loyal and Returning users are engaging more with Health, Local, and DIY categories. In addition, the publisher can also filter by geography as well as optimize video publishing and audience acquisition strategies by time of day.
Video Streams per Session by Time of Day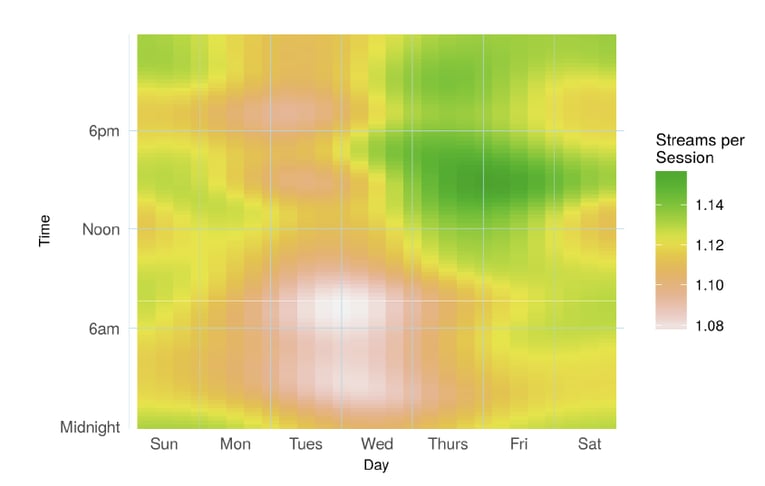 When integrating with our video data layer, publishers can leverage these behavioral insights to engage users with newsletters or re-marketing strategies that move them further down the funnel towards becoming paid subscribers.
Sports: Diversifying Coverage to Retain Audiences
Surface brand-suitable content for contextual ad targeting
While some publishers that exclusively cover sports have been aligning content strategy to cover ESPN's The Last Dance as if it were a sporting event, most have continued to see declines in views. Prior to the pandemic in the US, a national digital network of regional news sites enjoyed the majority of video engagement from daily sports coverage and analysis.
In February, as Europe faced increasing disruption from sports cancellations, this publisher realized that it had to diversify its coverage to avoid being too dependent on tentpole events to create the majority of its monetizable video inventory. The network pivoted to covering the pandemic on a national and local level. In addition to news, video content included lifestyle and entertainment content that were adjacent to coronavirus such as "How-Tos" and "DIY" content.
The strategy was put to the test when the NCAA tournament was canceled and the NBA, NHL, and MLB seasons were put on hold. While other sports-dependent publishers saw declines in user engagement, this client saw total views double in March from the previous month.
Initial and Recommended Views for a Regional News and Sports Network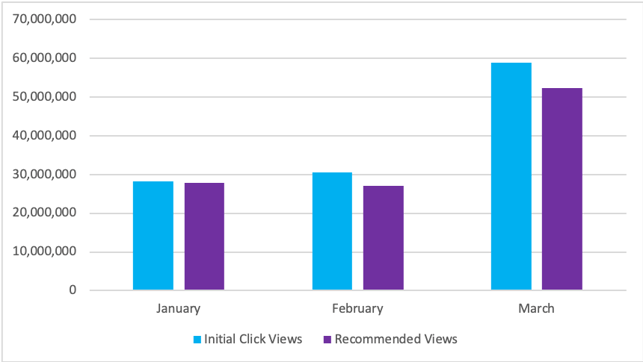 By participating in the IRIS.TV Contextual Video Marketplace, the publisher is able to maximize the value of the increase in user engagement by having its inventory made available to brands looking to contextually align advertising to brand-safe and brand-suitable video. As marketers are re-engaging in digital advertising, brand-suitability is no longer a nice to have in the era of COVID-19.
To learn more tips about how to apply data driven strategies to drive engagement and revenue, contact us or your IRIS.TV Programming Strategist.