How Can Marketers Plan for the Future of CTV Advertising?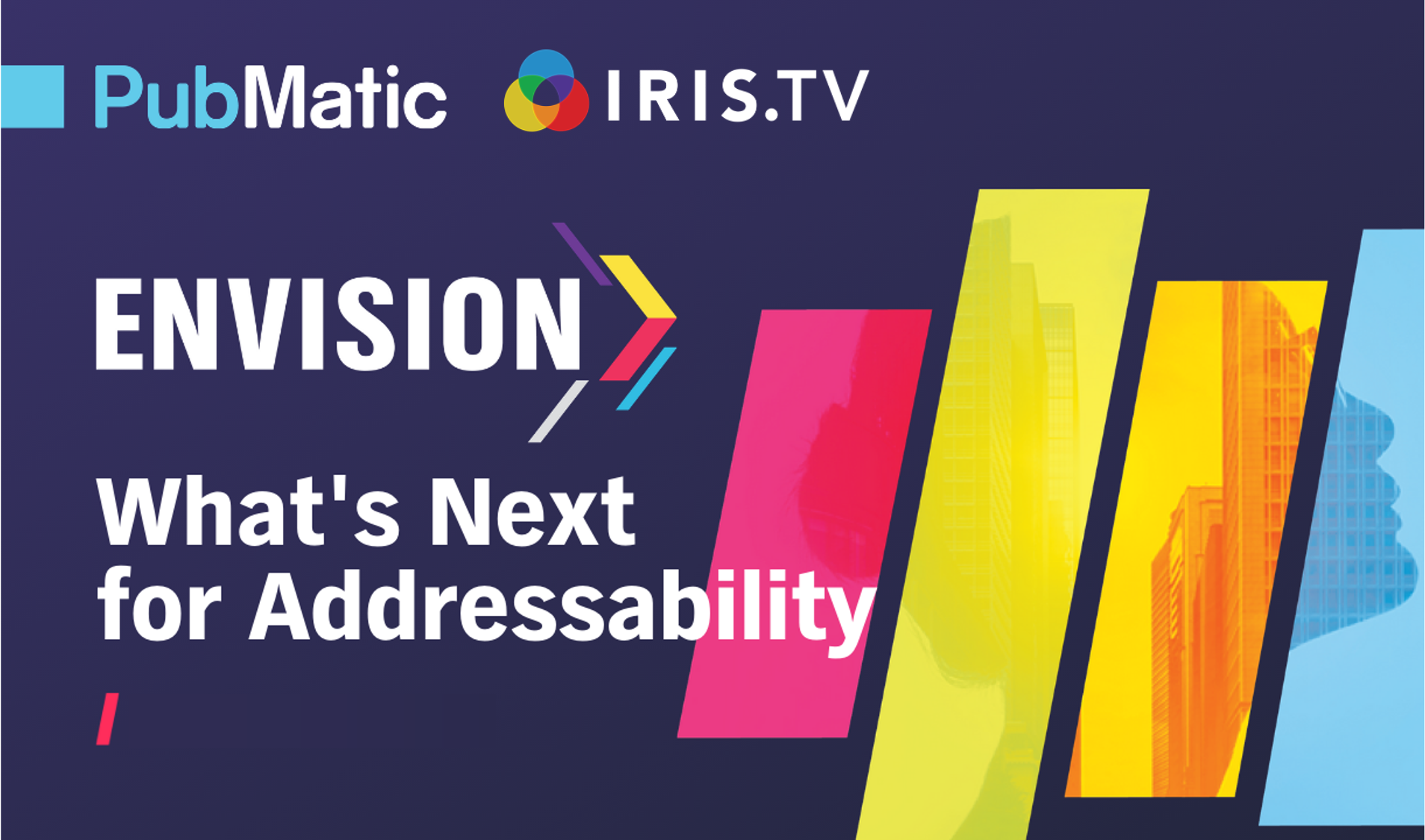 Top takeaways from the PubMatic Envision 2021 panel on CTV addressability
Bill Swanson, EMEA Strategy Lead for IRIS.TV, recently joined other industry experts to discuss the future of CTV addressable advertising. Watch the panel on-demand below or read our top takeaways for marketers looking to understand the opportunity in CTV and plan for what's next.
#1 Prioritize test-and-learn opportunities
While still a burgeoning media channel, savvy marketers who test CTV buying strategies now, will be better positioned long term to understand what works with streaming audiences.
"Initially, [investing in CTV offers] incremental reach… [B]ut primarily it's really about...how you can get a head start into the next couple of years. [W]hether that's learnings you can apply from your first contextual targeting and advertising campaign, to how does CTV compare against any other channel… Investing today will ensure [marketers]...are able to measure the impact that CTV will have, so that…when scale is there, they can immediately upscale...," says Bart Sieswerda, Director of Business Development at Rakuten Advertising.
What strategies can be deployed today to uncover what works in CTV?
Adoption and maturity of CTV viewership vary widely across regions, Sieswerda notes. To scale quickly, take proven media buying methods from more mature markets, like the US and UK, and apply those tactics to emerging markets.

To ensure message resonance at scale, seek out media partners who provide TV-like transparency in their CTV offering. Publishers are making massive investments to deliver better data and video-level transparency to brands looking to shift budgets from linear to connected TV.
"[W]e've seen publishers start to make major investments in centralizing and augmenting not only their first-party video data…but also infrastructure funding which enables greater contextual clarity…so [CTV inventory] can be targeted from an audience and contextual perspective," notes Bill Swanson, IRIS.TV EMEA Strategy Lead.
#2 - Apply TV best practices to CTV buying by prioritizing context
"One of the big challenges we see from a lot of clients who are a bit more TV savvy, or have done linear TV for years and years, is getting your head around…not knowing when and where your advert is going out," shares Mihir Haria-Shah, Head of Broadcast at Anything is Possible, a creative and media agency.
By demanding access to video-level data, advertisers can overcome the historic lack of contextual transparency in connected TV and leverage linear best practices for CTV media planning.
"[A]dvertisers initially think about CTV as just another digital video channel, rather than an extension of linear or big screen, big impact campaigns. …[A]nd with the whole debate around the cookieless future, advertisers need to start thinking about the context their ads are being show in and seen…," says Sieswerda.
What's the bottom line on best practices?
Explore new context targeting solutions to drive brand KPIs by working with partners who can deliver video-level contextual data.
"Understanding what a person is watching is a great proxy for interest and intent and delivers results when paired with timely creative in relevant context," highlights Swanson.
In a recent study conducted in partnership with FOX, brands saw lifts of 35-37% in sales effect, 37% in purchase intent, and 62% in unaided awareness when context targeting was deployed.
"IRIS.TV is one [innovation partner] that offers…deep contextual targeting solutions that we are currently evaluating to look at how we can bring more to an advertiser than just...'Run your campaigns across all of our inventory and then at the end just evaluate,'"Sieswerda says.
Advances in technology mean brands no longer need to accept a lack of contextual transparency in CTV. Marketers can access video-level insights today to activate with relevance, clarity, and confidence at scale across any video format.