IRIS.TV Partners with Equativ for Full-Stack Integrations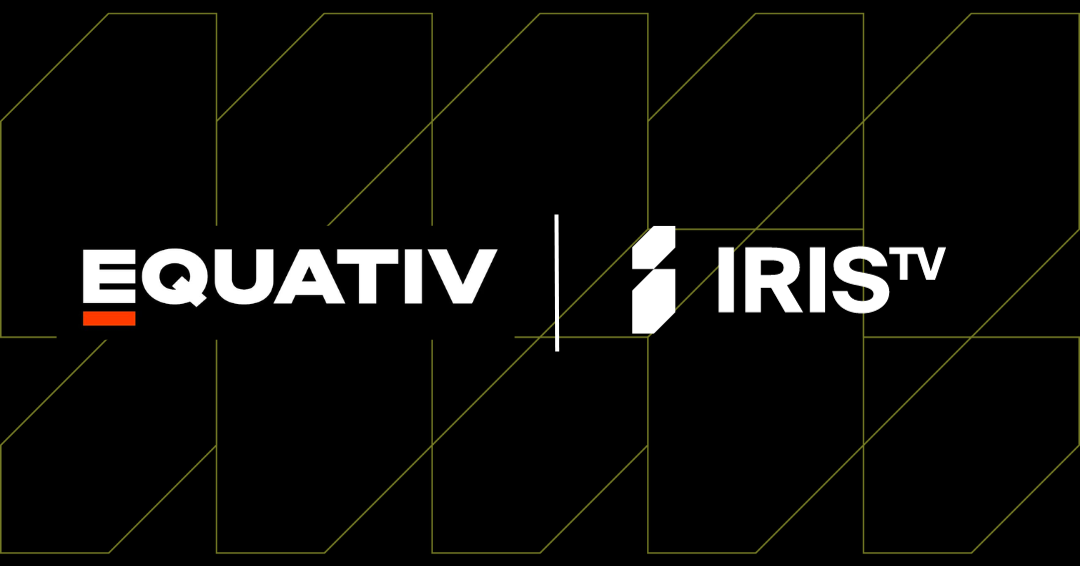 Leading content data platform joins forces with ad tech innovator to shape the post-cookie video and CTV future: providing better insight-powered contextual ad targeting.

London, New York & Paris 30 October 2023 — Equativ, the global leading independent ad platform, has today announced its official partnership with IRIS.TV — the only data platform built for structuring, connecting, and activating video-level data.

This marks IRIS.TV's first full-stack partnership, enabling the use of granular video-level data across Equativ's advanced ad server, supply, and demand-side platforms (SSP and DSP). Through direct integration, Equativ will create a new marketplace where publishers can easily integrate the IRIS_ID to offer brand-suitable, contextual ad targeting for online video and connected TV (CTV) inventory, while also having increased access to demand from media buyers. Driving secure data sharing, the smart content identifier makes it easy to efficiently fuel relevant advertising by harnessing detailed insights about on-screen digital content.

This collaboration comes as standard approaches to digital media monetization and buying are being disrupted by ongoing changes in data access and usage. Coupled with rising data privacy regulations, the upcoming deprecation of third-party cookies in 2024 is creating a greater need for more contextual-based solutions. With brands, agencies, and advertisers recognizing the need to explore alternative data sources, there is increasing interest in contextual approaches that can deliver both privacy-compliant and more engaging ads to consumers, especially in the fast-growing CTV space.

IRIS.TV's privacy-by-design solution helps publishers securely share video-level insights with advertisers. Seamlessly ingesting and normalizing all metadata for each video, it assigns an IRIS_ID: a universal content identifier, that can be shared with data partners such as Oracle Advertising, Pixability, and GumGum's Verity for sophisticated enrichment and segmentation, powered by artificially intelligent (AI) frame-by-frame analysis. Using Equativ's platform, the IRIS_ID can be passed into the bid-stream by publishers, enabling flexible programmatic transactions via direct, private marketplace (PMP), and pre-bid deals.

Key benefits of the partnership include:
Streamlined and secure monetization: The IRIS_ID equips publishers with a common data signal they can implement to amplify video and CTV ad revenue, while maintaining tight control over their valuable assets.
Smart contextual targeting: Media buyers can apply AI-assisted contextual targeting that's twice as effective as demo and publisher-declared content metadata; ensuring ads are placed beside the content best suited to their audience and brand.
Scalable deal configuration: Versatile capacity to optimize and organize multi-publisher deals in the way buyers want to transact, effortlessly generating unique deal IDs that can be accessed by any DSP of their choice.
Rigorous standards: Data management practices follow the same benchmarks as wider display advertising: adhering to the Video Privacy Protection Act (VPPA) and creating brand suitability segments in line with the Global Alliance for Responsible Media (GARM) framework.
Sean Holzman, EVP, Ad Platforms and Agencies at IRIS.TV, comments, "Accessing content data at the video level has been a major challenge for many contextual intelligence solutions looking to enter the video and CTV arena. The IRIS_ID is engineered around solving this issue and supporting an open ecosystem where video owners, distributors, and advertisers can tap detailed video-level data to deliver the right ads in the moments that matter. By integrating the IRIS_ID with Equativ, we look forward to providing advanced ad decisioning capabilities that are unique in the marketplace. This integration will also enable players across the industry to access and connect high-value and privacy-centric data. This access will help them achieve deeper audience understanding and, ultimately, provide a better user experience."

"Maintaining addressability is essential to not only accelerate growth in the CTV space, but also help protect its future viability," adds James Grant, SVP and Head of Agency & Enterprise CTV Partnerships at Equativ. "While subscriptions are becoming an important element of monetization strategies, the exploding popularity of FAST platforms means there is a growing need for technologies that help supply and demand side players connect and trade efficiently.

"We are committed to constantly honing and extending our CTV capabilities, developing contextual and curation tools that fuel greater yield without relying on cookies, and moving to become an ID-agnostic platform. Working with IRIS.TV to access content signals via the IRIS_ID is the next phase of that progression, which will bring a rich new avenue of data to make ads even more impactful."



About Equativ


Equativ is a leading independent ad tech platform built to serve the interests of both advertisers and publishers. Equativ provides brand and privacy-safe solutions that empower its clients to achieve maximum impact, while respecting the rights of consumers, and combines client expertise and engineering excellence to serve the interests of both the supply-side and demand-side with equal professionalism and technical sophistication.

Headquartered in Paris and New York, Equativ operates globally with a team of over 550 employees in 16 offices. Equativ offers the market its own independent ad server, SSP, buyer tools, and media services to fulfil the promise of advertising technology. Learn more at Equativ.com



About IRIS.TV


IRIS.TV is the only data platform built for video and CTV. We structure, connect, and activate the world's video-level data to create better viewing experiences and advertising outcomes. Our content identifier, the IRIS_ID, enables our partners to build scalable advertising solutions for contextual and brand-suitability planning, targeting, and measurement. Learn more about the IRIS_ID and the IRIS-enabled™ ecosystem of premium publishers, data partners, and ad platforms at www.iris.tv.