Brand-Safety and Video Advertising During COVID-19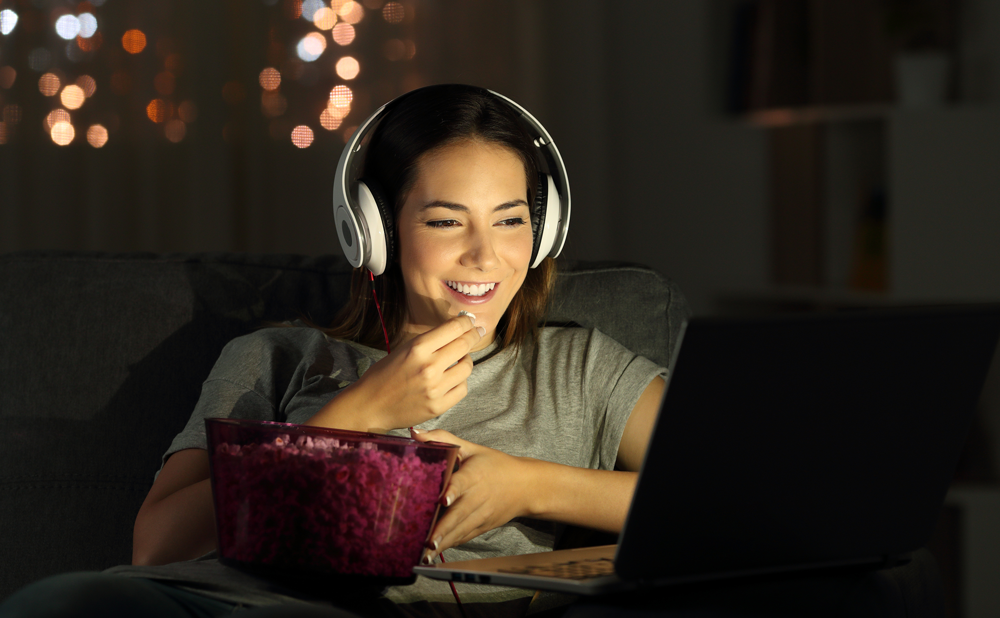 As the pandemic influences all aspects of daily life, should advertisers really blacklist all content that references coronavirus or COVID-19?
While the impact of the coronavirus and COVID-19 on all aspects of life cannot be overstated, brands should not be pulling budgets from advertising, but rather recalibrating how they direct their spending. In this post, we'll examine the changing user behavior toward ad-supported video in the last month and the seemingly counterintuitive trend towards more brand-safe supply in the age of the coronavirus.
As individuals, families, and communities adjust to this new (hopefully temporary) normal, businesses of all sizes are adjusting their marketing strategies, particularly in digital advertising. Brand safety and suitability have never been more important as marketers look to reach consumers in an appropriate context and in a tasteful manner. The pullback in ad spend in the last few weeks is reflective of the massive shock to the system.
In the last month, while most categories of consumption have declined as social distancing measures have been put into place, video viewing has increased dramatically. It is not just the streaming services that are seeing an increase in engagement in the evenings, but daytime desktop viewing of ad-supported video has seen a significant uptick as more employees work from home.
In this post, we'll share data from IRIS.TV Contextual Video Marketplace that reflects not only how users are engaging with video during these last few months, but what they are watching and its implications for video advertising.
Working from Home Changes Viewing Behavior
Because commuting is no longer part of most people's daily routine, an increasing amount of video consumption is moving to desktop. In early February approximately 30% of user video sessions were on desktop. As we approach the end of March, nearly half of all video sessions are on desktop.
Share of Video Sessions from Desktop Users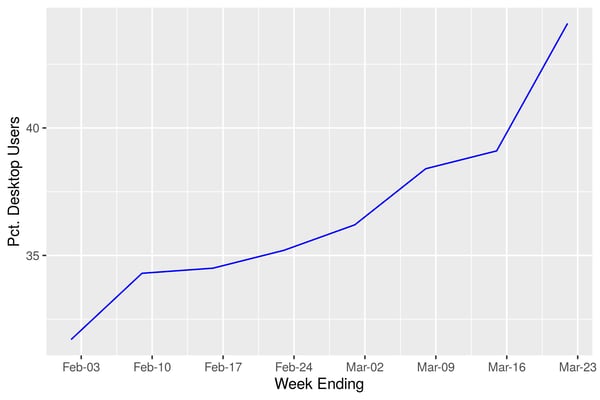 Source: IRIS.TV Contextual Video Marketplace
What Video Content is Seeing Most Engagement?
As expected, news publishers have seen the largest increase in video views during this period, while sports publishers have seen the sharpest decline. The chart below plots the proportion of user sessions for each publisher type in our system.
Lifestyle and entertainment publishers did see declines in engagement over the last month but have been trending upwards in the last week as they adjust their editorial calendar and content strategy.
Share of Video Sessions by Publisher Type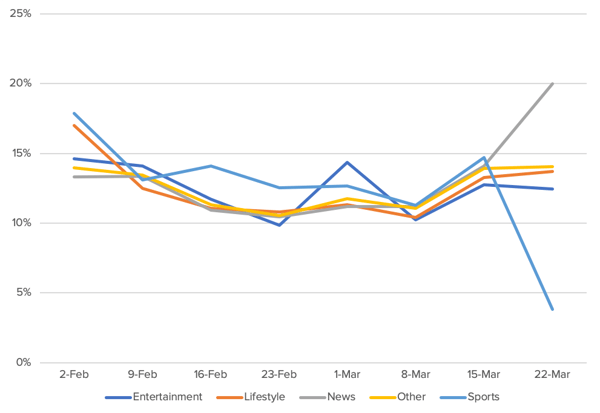 Source: IRIS.TV Contextual Video Marketplace
Impact of Coronavirus/COVID-19 on Brand Safety
While media attention of the pandemic has been building for several months, everything changed in the U.S. beginning on March 11 with the announcements of the European travel ban, suspensions of the major sports leagues and more.
Through the IRIS.TV Contextual Video Marketplace, leading context and brand safety data providers have processed billions of video impressions across thousands of publishers worldwide.
Below is a chart of the proportion of brand-unsafe coronavirus video impressions to total video impressions on global news sites. The video impressions flagged for brand safety issues peaked on March 12 and has since been declining. The decline in the percentage of brand unsafe impressions is not the result of positive news, but rather the pandemic's impact on content is more nuanced. This indicates that coronavirus has become a part of our lives and that not all references are unsafe. In fact, it's becoming safer.
Share of Video Impressions Related to Coronavirus/COVID-19 Flagged for Brand Safety

Source: IRIS.TV Contextual Video Marketplace
As more video is processed by our contextual data partners, the more accurate these systems are at separating content that truly should be avoided, from relevant content that is brand safe i.e. "How to Work from Home When You Have Kids".
What are the Top Brand Safe Categories to Target?
Brand-safe categories like Health, Food, Politics, and even Travel are seeing upticks in video impressions. This shows that there are still plenty of relevant areas to target with changing consumption patterns of online behavior.
Top Categories Share of Total Weekly Video Impressions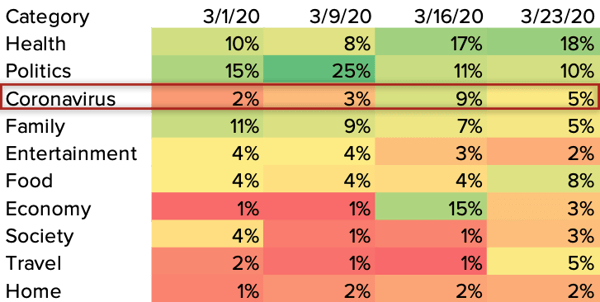 Source: IRIS.TV Contextual Video Marketplace
The Road Ahead: How to Target Effectively and Safely
As brands and consumers continue to adjust to a changing world, references to coronavirus/COVID-19 will persist in media. Contextual data providers are identifying and isolating brand unsafe and unsuitable impressions with greater precision and accuracy. As users keep watching video, the quantity of brand-safe and suitable inventory available continues to grow at large scale.
Click to learn more about how marketers are reaching consumers with ads that are safely aligned to the content of the videos they watch on web, mobile and CTV.
Trusted by