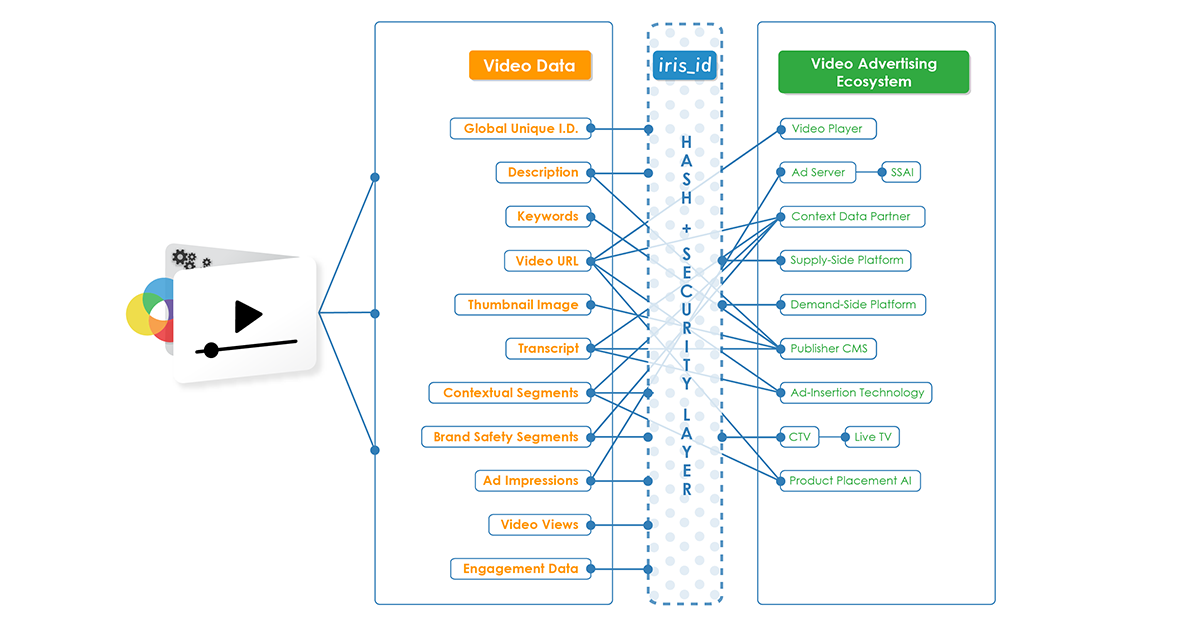 A Global Unique Identifier for Every Video on Any Screen
We are pleased to announce the introduction of the IRIS ID, a data solution to unify the video content and video advertising ecosystems for the first time.
This groundbreaking solution unifies thousands of integration points in the advertising landscape into a single data stream. The result is that marketers can now reach viewers at the exact moment they are watching video in order to increase the relevance, effectiveness, and overall impact of their brand messaging and advertising. This is all achieved while protecting the privacy of end-users, and does not rely on cookies.
Why We Built This
Contextual ad targeting has been one of the most impactful innovations in digital advertising since the start of the internet. First popularized by Google's AdSense in search, contextual ad targeting has been proven to improve consumer experiences and ROI on marketers' investment in search, display and TV advertising.
In a post-cookie world, marketers and media companies are looking for ways to increase the performance of video and CTV advertising while remaining compliant with all current and future privacy regulations. In 2019, we launched the IRIS.TV Contextual Video Marketplace as a neutral data marketplace to solve that problem. This was a first-to-market solution enabling context and brand-safety targeting for programmatic video advertising on all screens. With the release of the IRIS ID ("iris_id"), this valuable targeting capability is now possible for real-time buying.
How it Works
The IRIS ID is a persistent identifier for every video on-boarded into the IRIS.TV Contextual Video Marketplace. This new addition allows marketers to target the topic of videos across any screen in real-time and at scale outside of the walled gardens.

When a video is ingested into the IRIS.TV Contextual Video Marketplace it is assigned an IRIS ID, a globally unique identifier
Each time the video is viewed and an ad opportunity occurs, the iris_id is sent into the bid-stream making it available to demand-side platforms (DSP) to access
The iris_id is then passed from the DSP to a variety of data partners to allow the video adjacent the ad opportunity to be analyzed
Based on each data partner's segmentation of the video the buyer can then determine the suitability of the inventory for a specific campaign
What are the Benefits of the IRIS ID?
By providing unprecedented transparency and contextual targeting capabilities, publishers increase the value of their video ad inventory. This is made possible while simultaneously protecting publishers' and broadcasters' sensitive content data.
Data providers unlock both buy and sell-side context and brand-safety targeting for video via any SSP and DSP using both standard and custom segments.
Platforms contextually target brand-suitable video inventory for direct, PMP, and open auction campaigns across all screens using any contextual data partner.
Video advertising is brand building. Marketers can protect a valuable investment, win hearts and minds, and drive superior performance and ROI through brand suitability and alignment.

To learn more about the IRIS.TV Contextual Video Marketplace, the IRIS ID and more, read our product documentation and contact us.