Virtual Events: How to Maximize Video Engagement and Drive Revenue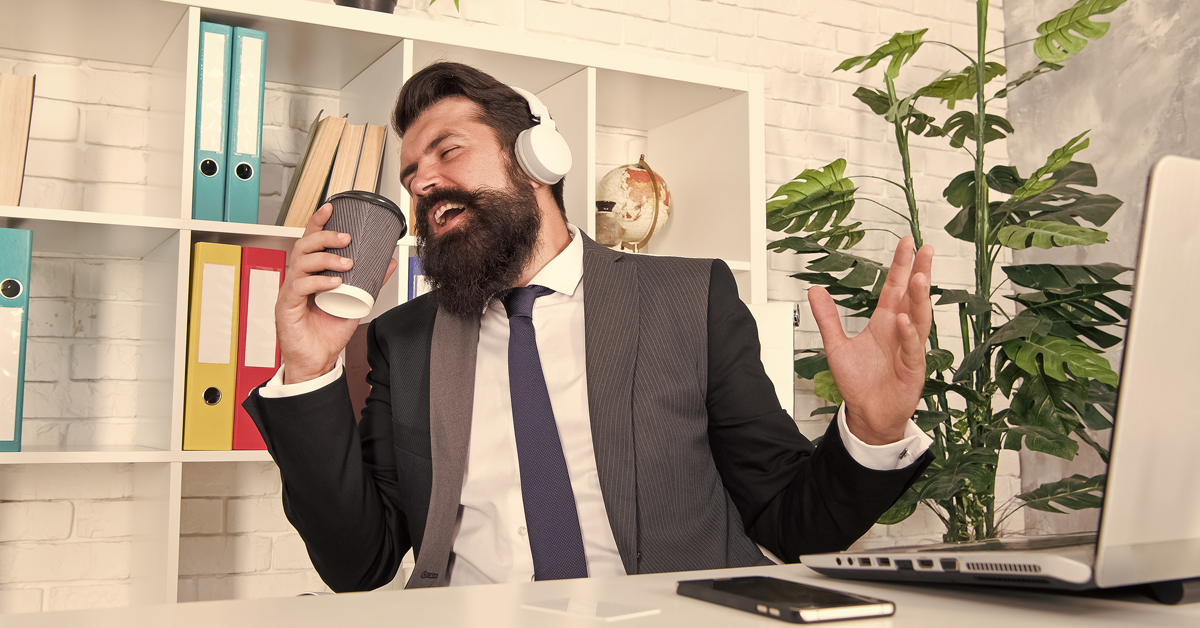 In this post, we review the key steps publishers can take to ensure they maximize the value of their virtual events in the moment and in the days and weeks after.
Tips to Ensure Success with Virtual Events
Summer is traditionally the season of music festivals. Electric Daisy Carnival (EDC), an electronic music festival held in Las Vegas normally in mid-May, became the largest dance music festival in the world in 2019. The 2020 iteration has already been moved to October and it is unlikely that metrics similar to 2019 will be seen anytime soon as restrictions relating to social distancing will remain in place until a cure is found.
This dilemma will affect events of all sizes, from global franchises like EDC to more intimate gatherings organized by companies and digital media publishers. However, publishers have something that traditional festivals, concerts, and events don't. Established publishers not only have the know-how but the digital audience to take these events online. Yes, there will be a loss from ticket sales but monetizing the content and developing a strategy ahead of time to ensure maximum viewership offers a way to generate revenue.
Develop and Test Infrastructure Early
Online video players across the web have options that enable publishers to orchestrate live streams on their owned-and-operated sites. Ensuring that your OVP supports this feature and knowing how best to use it is the first step to taking your fireside chat, concert, or festival online. Having a plan or backup in place is a vital part of the infrastructure required to host your online event.
Select Clips After the Event
An event that might only be seen by those who attended in person has the capability to scale limitlessly when recorded and edited for on-demand viewing. Picking and choosing the most alluring aspects of the live stream and cutting them down to easily-digestible segments that are optimized for search engines and can be promoted across social channels increases the return on investment of the performance or event and virtually never loses their value.
VOD Programming
IRIS.TV enables publishers to develop programming strategies to advance revenue and editorial goals. Once the live stream has been edited down to segments and the clips are uploaded to your owned and operated platforms, IRIS.TV programming strategists can help you customize programming automation to insert featured concert or event videos directly into the stream. The result is an increase in viewership and ROI that would not be possible by the live stream alone. Additionally, such content is likely to drive increased engagement and retention of your audience, prompting them to come back to your site as the only destination for exclusive concert or event footage.
Optimizing Entry-Points
Some videos will perform better than others. Some will receive significant volume in the initial position (first video in a playlist) but if these initial assets have low completion rates or limited follow-on views in the playlist, the potential to maximize engagement with video recommendations is lost.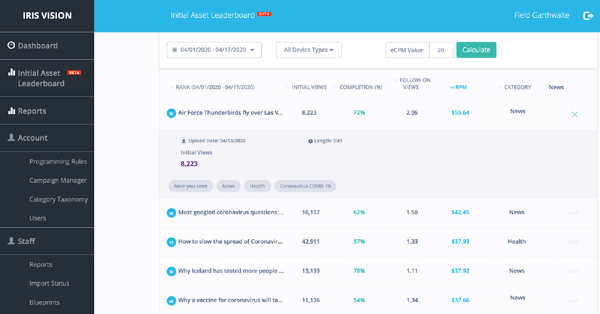 The IRIS.TV Initial Asset Leaderboard enables publishers to choose the right video to place on landing pages, promote via social channels, and emphasize on homepages. The IAL, for short, ranks assets by their initial views, completion percentages, follow-on views, and revenue opportunity (RPM) based on a publisher's eCPM. Editorial teams can use this tool to optimize entry points to the recommendations by choosing assets with high completion rates, guaranteeing more users make it to the recommended videos.
Have an upcoming virtual event? Contact your IRIS.TV programming strategist now to start developing your strategy for upcoming virtual events. If you are not a customer, contact us to learn more about how to increase video engagement and maximize revenue on your owned-and-operated sites and apps.